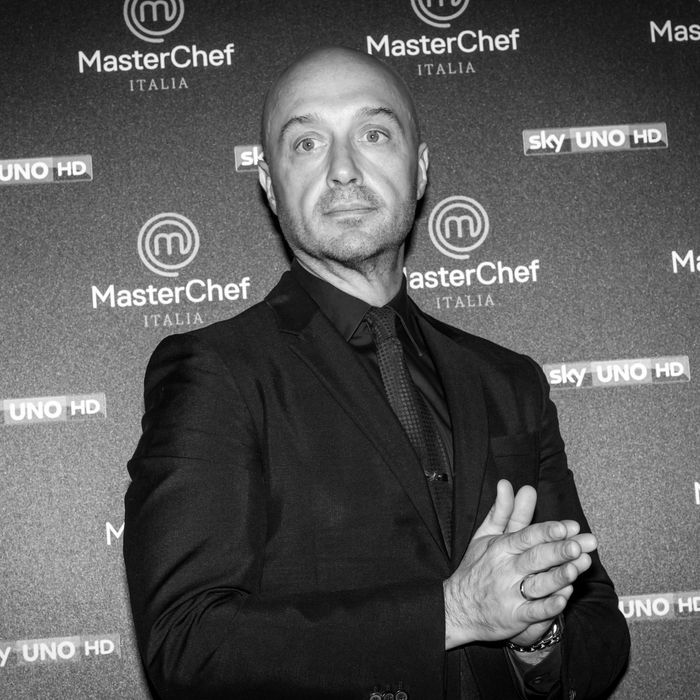 Bastianich in Milan.
Photo: Francesco Prandoni/Getty Images
It's hard to keep track of the biggest problems facing the restaurant industry right now, but it's clear that there are many. In the midst of a national reckoning over the sexism and abuse that remain pervasive, the problem of racism was bound to come up again (see Paula Deen). This issue has never really gone away, of course, but this week, it alighted on us in the form of an Italian reality-TV-show episode depicting restaurateur Joe Bastianich — operator of restaurants such as Babbo and Del Posto — spewing racial stereotypes as female Chinese beauty-parlor workers gave him a mani-pedi.
The video shows Bastianich asking the women a bizarre series of intrusive and insensitive questions. He notes the "defects" of Chinese men when asking if they've ever dated Italian men, and wonders aloud what Chinese people do with their dead, because he hasn't seen a dead Chinese body. When Grub Street asked Bastianich to comment on the video, he wrote a terse explanation, saying that the segment was scripted, and that he knew the women at the beauty parlor because he went there often. (Presumably he was suggesting that he couldn't or didn't offend them because he patronized their business?) Finally, he states that some of what was spoken in the segment does not represent his views and he apologizes for it.
It's hard to imagine Bastianich taking part in anything like this for American TV, and whether or not it was scripted by someone else entirely, the restaurateur's participation in the episode and tepid explanation shows him to be a person who clearly doesn't grasp how disgusting and harmful this clip is.
As a founding partner of B&B Hospitality Group, Bastianich is an outsize figure in the food industry. In the wake of investigations that exposed the behavior of Bastianich's fallen business partner Mario Batali and fellow restaurateur Ken Friedman, there are multiple accounts of Bastianich's use of crude, sexist, and racist language over the years. From all accounts, these men have been overtly offensive throughout their careers, allegedly caressing a hostess's breasts (in the case of Batali), and as for Bastianich, expressing misogynist views about women in his own memoir.
The TV episode in question, however, takes the current debate in a very upsetting direction, showcasing Bastianich's arrogance toward obvious racist stereotyping. His agreeing to be on the show and reading the script in the first place is a slap in the face to entire ethnic groups, women, and people with any sense of cultural awareness and respect.
Perhaps the most disturbing aspect of Bastianich's comments in the video is his sheer ignorance about other cultures. Questioning the existence of Chinese dead bodies might seem like an absurd thought — but it falls cleanly into the age-old racist trope of not seeing people of other races as actual people. The "defects" comment is a clear reference to the stereotype of Chinese male emasculation that has roots in exclusion acts that prevented Chinese workers from doing traditionally male work in America, and is something that some of Bastianich's peers have sought vehemently to debunk. Furthermore, the entire scene — on a supposed food show, called MasterChef Italia — depicts an uncomfortable scenario where two young Chinese beauty-parlor workers are fastidiously buffing the feet and hands of the sunglasses-clad Bastianich while he repeatedly corrects their pronunciation of things. The stereotype of the submissive Asian female responding to such treatment with glee is a male fantasy that does great disservice to working women in the hospitality industry.
One would hope that a restaurateur of Bastianich's stature would understand that food is only a reflection of unique cultures, histories, and stories, and that food professionals around the world work to explore those connections, especially since he is a man who has built his career in the shadow of his mother's own food celebrity.
Through her PBS cooking show, Lidia Bastianich exuded maternal authority on cooking from one's heritage. She rose to prominence at a time when Italian home cooking was more esoteric to Americans, when flamboyant, mustachioed "Italian chefs" like Chef Boyardee provided a cartoonish stereotype for the cuisine. That most Americans now appreciate the depth and variety of "Italian" food is due in no small part to Lidia herself. Her show and subsequent books gave viewers a window into an Italian-American kitchen with the sincerity that comes from someone who doesn't take herself too seriously. (At least, that's how it may look on the surface. In 2011, she was served a lawsuit by a household employee who described her working conditions as slavelike. The following year, both Bastianichs and Batali settled a class-action labor lawsuit from employees of their restaurants.)
It's a shame if Bastianich doesn't understand or care about the racism and deep cultural offense he served up in this MasterChef Italia episode. And it's too bad that his apology fell far short when he had the opportunity to respond. As a direct descendant and beneficiary of someone who successfully challenged Italian stereotypes and brought people together through food, Bastianich seems to now be telling a story of snide exclusivity and repugnant cultural ignorance instead.
Cathy Erway is the author of The Food of Taiwan and The Art of Eating In. She hosts the podcasts Why We Eat What We Eat from Gimlet Creative and Blue Apron as well as Eat Your Words on Heritage Radio Network, and blogs at Not Eating Out in New York.