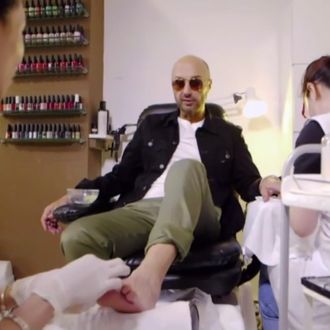 In the wake of investigations into Mario Batali's sexual misconduct, reporters have taken a closer look into the problematic leadership and culture of B&B Hospitality Group, which stands for "Batali & Bastianich." Joe Bastianich is at the top of the company hierarchy, and an episode of MasterChef Italia, which aired on Sky Italia last week, raises lots of questions.
The below clip was brought to Grub's attention by an anonymous source who works in the industry and lives in Milan. (The source also supplied the English subtitles, which Grub verified were accurate.) In it, Bastianich gets a manicure and pedicure at a beauty salon in Milan's Chinatown, staffed by two Chinese women. He continuously tries to correct how the women speak. He asks if they've ever had Italian boyfriends, noting that Chinese men have some defects and are, as Bastianich phrases it, inadequate in certain situations. He asks what the Chinese do with the deceased, because, as he says, he's never seen a dead Chinese person.
Grub reached out to Bastianich for comment. He replied, "This was a scripted segment shot in a Milan nail salon that I've gone to regularly. I know the women, and we were given the questions to discuss in advance. That said, it's clear that some of what I said was in poor taste and not reflective of my views. I'm sorry I said those things."
In December, Bastianich addressed the controversy plaguing his company by claiming he had never heard the formal accusations against Batali. But multiple sources told Eater that Bastianich acted inappropriately toward women — to the point that hostesses asked to be moved to avoid interaction with him. Separately, in May, former Babbo pastry cook Isaac Franco Nava sued the restaurant group, saying he experienced racist and anti-gay discrimination. The language in Bastianich's 2012 memoir, Restaurant Man, is also discriminatory; he calls "Dutch and Australian chicks" "low-hanging fruit," and advises that people hire bartenders "with a nice set of tits."
In a letter written on December 22, Bastianich, his mother, Lidia, and Nancy Silverton, pledged to rebrand the group with a new name, as well as heighten the roles of both Lidia and Silverton. Batali is no longer involved in operations, though he is still a partner in Babbo, Del Posto, and Otto. Bastianich continues to remain on the board, actively involved in and profiting from the 24 restaurants he co-owns in cities all around the world, including in Hong Kong.