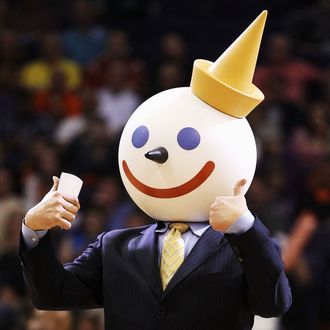 Jack agrees — airtight logic.
Photo: Christian Petersen/Getty Images
Boy is it turning into a bad week for people who'd like to defeat the fast-food robot uprising. Yesterday at CNET, Pizza Hut unveiled a driverless delivery vehicle so scary, even Black Mirror tweeted about it. ("We know how this goes," the show's account quipped.) Also yesterday, rumors emerged that the White House is "considering finding a role" for disgraced former Carl's Jr. CEO Andy Puzder, perhaps America's No. 1 proponent of a robot workforce. He won't be running the Labor Department, thankfully, but clever Trump-administration minds can no doubt still put his awful workers' rights record to use.
The biggest real-world threat, though, comes today from Jack in the Box: Per Business Insider, CEO Leonard Comma told an industry crowd that "it just makes sense" to swap cashiers for inanimate machines in the year 2018. Not because he thinks 2018 will be the year that fast food gets technologized so much as it's the year that Jack in the Box's home state of California increases the minimum wage to $11. In fact, wage bumps hit 18 states this year, with California on pace to become the first $15-wage state in coming years — a prospect that terrifies industry executives. (Before Puzder departed, he managed to get Carl's Jr., based in L.A. for 60 years, re-headquartered in Tennessee.)
Jack in the Box has flirted with the idea of installing automated kiosks before. As early as 2009, it tested them out, and apparently found that they increase store efficiency and average check totals — not bad at all if money's your bottom line. But according to Comma, the chain's executives balked because the upfront cost of converting from people to machines was still too great. What a difference a dollar an hour apparently makes: He told the crowd that with "the rising costs of labor," it's time to start thinking about automating restaurants.