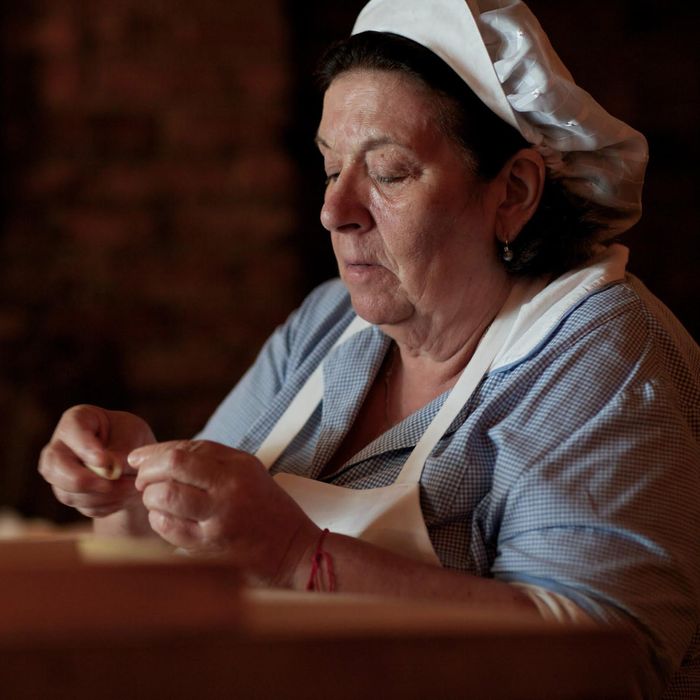 Mamma MIA: Tortellini queen Caterina Schenardi making tortellini in happier times.
Photo: Courtesy of Gradisca
This has been a turbulent time for connoisseurs of stuffed pasta. For months, they've been deprived of the reassuring presence and superb handiwork of Caterina Schenardi, the 70-year-old Bologna native and mother of Massimo Galeano, who runs Gradisca trattoria on West 13th Street. Fifteen years ago, Schenardi came to New York to visit her son and couldn't help but roll up her sleeves and put on an impromptu tortellini-making demo for the staff and customers. Her pasta-making performance was so impressive, her fingers so nimble, and her tortellini so tiny (tininess being the be-all and end-all of tortellini-making) that Galeano decided to hire her on the spot, which made his mother very happy.
Since then, Schenardi has been flying to New York from Emilia-Romagna on a regular basis to visit her son and make enough pasta in four-week spurts to supply the restaurant until her next visit. (Whatever doesn't get used immediately is stashed in a special freezer.) Along the way, she's gained a following and even a modicum of celebrity, once appearing as the subject of a Times profile.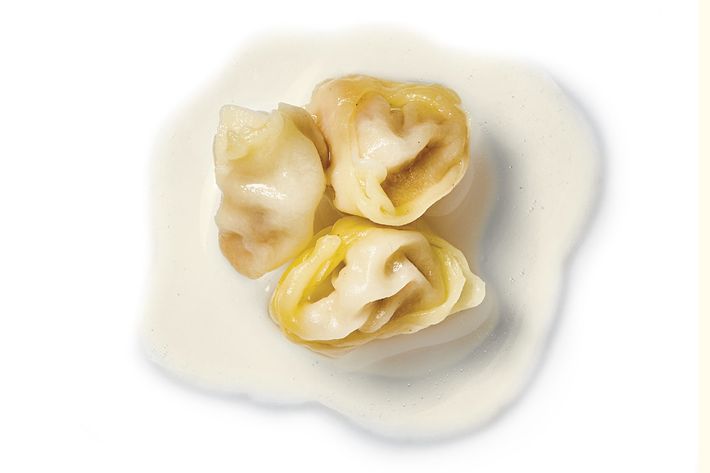 Things couldn't have been rosier until seven months ago, when Schenardi went to Rome to renew her employment visa, which had hitherto seemed pretty much a formality, albeit a costly one, taking into account travel expenses and visa-application and lawyer fees. But this time Schenardi's request was denied, and to say that she took the news hard is not to overstate it. "It was like a stab in the heart," says Galeano. "My mother loves working in this country; I think she cried when she found out."
So what happened? Galeano says he and his mother never got an explanation. But he suspects that it has to do with the Trump administration's increasing efforts to make it difficult for skilled foreigners — even skilled foreign septuagenarian tortellini-makers — to work in the United States.
"My mother's been coming to New York for 15 years without a problem," says Galeano. "She pays her taxes; she's never had so much as a parking ticket. So why was she denied now?"
We may never know. But the good news is that Schenardi will be arriving in New York at the end of the month with a tourist visa to resume her pasta-making duties at Gradisca — but this time, given the restrictions of that visa and the political climate, without pay.
In the meantime, Massimo Galeano has stepped into his mother's role, not as tortellini-maker (he doesn't have the chops, he says, not to mention the right-size hands) but by introducing a new stuffed-pasta shape to the menu that he calls Massimini — half-moon ravioli stuffed like his mother's tortellini with a mixture of veal, pork, prosciutto, mortadella, and Parmigiano-Reggiano.
Massimini, like tortellini, are served in brodo or with a Parmesan-cream sauce, and not to take anything away from Mamma, but they're pretty good, if comparatively gigantic. In fact, claims Galeano, "a few people say they're even better than the tortellini."