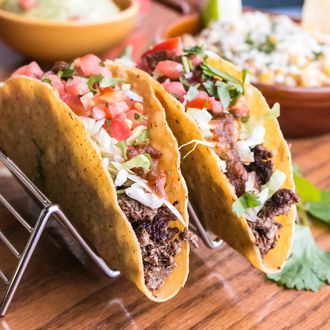 The Impossible Taco.
Photo: Lindsay Widdel
The lowly taco is getting a dose of high-tech hype. Impossible Foods, maker of the veggie burger that these days "bleeds" onto plates at Momofuku Nishi and Bareburger, has converted its popular faux beef that goes between two buns into a taco meat for a Chicago taqueria, Tallboy Taco.
Tallboy's appropriately named Impossible Taco comes stacked with lettuce, pico, and salsa árbol, in a housemade corn shell. The Chicago Tribune's RedEye says it tastes like a ground-beef taco, even though it's 100 percent vegan — which is probably why Tallboy is charging $12 for a pair of them. The paper also calls it an Impossible Foods "official partnership," without adding much else, which raises the question of whether this is an entirely new faux-meat formulation by the start-up, or if Tallboy just got a block of Impossible Burger meat to season and cook on its own. (After all, once you purchase Impossible's product, you're presumably free to make anything you want with it.)
Either way, Tallboy says it's a limited-time item only. But with Impossible Burger patties already everywhere — school cafeterias included — the company is surely eager to test its luck with new proteins. Taco meat's sort of a gimme since it still comes from a cow, but the start-up has also found a way for its heme molecule to mimic the taste and texture of bluefin tuna. Supposedly up next: convincing all-plant versions of chicken, pork, and lamb.