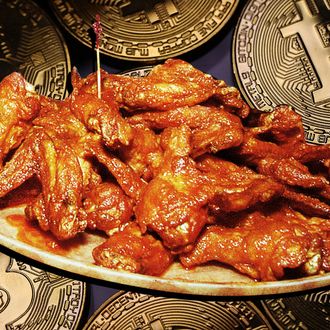 Currency based on the Hooters wings standard.
Photo: Tony Bock/Toronto Star (Wings); Dan Kitwood/Getty Images (Bitcoin)
A burger company that owns Hooters locations thinks it's given customers a reason to visit besides, of course, "for the wings." Ready or not, Chanticleer, which runs several Hooters franchises plus operating a handful of better-burger chains, has officially unveiled the nation's first blockchain-based restaurant rewards program. "Eating a burger is now a way to mine for cryptocoins!" the company says in a press release that should make the Winklevoss twins furious they didn't think of it first.
Hooters already has a rewards program, but points accrued by HootClub members can't be used at Chanticleer's myriad other brands — like American Burger Company, BGR, Little Big Burger, or Just Fresh. This move therefore ensures customers possess a "groundbreaking" cryptocurrency loyalty program "across all Chanticleer Holding brands — and beyond." It runs on the MobivityMind commerce platform, and will pay out in Merits, a "real" cryptocurrency that's "leveraging the same infrastructure and principles of Bitcoin, Ethereum, Ripple, Litecoin, and more," but is definitely not any of those. It's also unlikely to ever reach a fraction of their value, but Chanticleer's CEO Michael Pruitt hints at what diners can expect:
Use your Merit mined by eating at Little Big Burger to get a buffalo chicken sandwich at American Burger Co., or trade them with your vegan friend so he can get a veggie burger at BGR. And that's just the beginning.
Chanticleer expects the MobivityMind platform to roll out across all of its brands by the end of 2018, though certain chains could even see it by midyear. After yesterday's announcement, Chanticleer's BURG stocks leapt almost 50 percent. (They're up by only about 30 percent now, but still.) You might also recall a different company in the food industry — Long Island Iced Tea — changed its name to Long Blockchain back before Christmas, and stocks instantly quintupled.