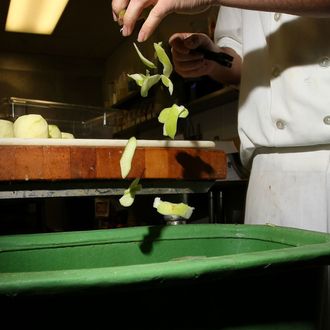 The U.S. wastes an estimated $200 billion of food every year.
Photo: Justin Sullivan/Getty Images
Some of the grocery industry's biggest names are throwing serious money and support at a new food-waste start-up. Colorado-based FoodMaven announced today that it's pocketed $8.6 million of Series A funding from a handful of backers, most notably Walmart's billionaire heirs the Waltons. This follows recent news that former Whole Foods co-CEO Walter Robb has not only made a "sizable" investment into FoodMaven but also joined the venture's board.
Its goal is pretty simple — keeping food out of landfills by convincing kitchens that "unused" doesn't mean still unusable — but make no mistake: What sets FoodMaven apart from other food-waste fighters is that it's not doing charity work. This is a for-profit enterprise, one now with millions in VC funding and a board that includes a former grocery-industry titan. FoodMaven thinks it can make lots of money by reducing food waste, updating what CEO Patrick Bultema calls an "inefficient 1950s-style food system." He argues that they've perhaps solved no less than one of the food industry's oldest problems: The fact that demand is constant, yet the products themselves spoil rapidly, grow erratically year to year, and are seasonal. The result is a colossal oversupply of everything. Basically, supermarkets buy surpluses from distributors, which also source extra to be on the safe side, on top of farmers also producing more than they'll probably sell, just in case. This safety net is important, but the waste adds up fast — to billions and billions of pounds each year.
Historically, much of that has ended up in landfills, or in the best circumstances, food banks. FoodMaven's plan is to intercept oversupplies of still-first-rate products, then sell them on its marketplace at a steep discount — about half the going rate, on average. It also takes in items that food distributors don't want for whatever reason — examples Bloomberg News gives are "a palette of frozen pizzas with a mistake on the box," or "heads of lettuce that got rejected for cosmetic reasons." Unsold products go to food charities, farms, or composting companies. "The industry has accepted waste as a cost of doing business," Bultema says. "We're making pathways that don't exist in the food system." They sell the food on consignment, meaning customers sort through FoodMaven's inventory and buy what they need, then the start-up splits revenues with the original supplier.
With interest in curbing food waste certainly mounting nowadays, FoodMaven has managed to bring aboard 700 Colorado businesses in just 18 months, it says — hospitals, school districts, senior centers, even the Cheyenne Mountain Zoo, but also earnest restaurants like 503W and the Wild Goose Meeting House. It expects to do about $10 million of sales this year in the Centennial State, and Bultema has added that they hope to be in another 50 to 100 cities in the next five years.