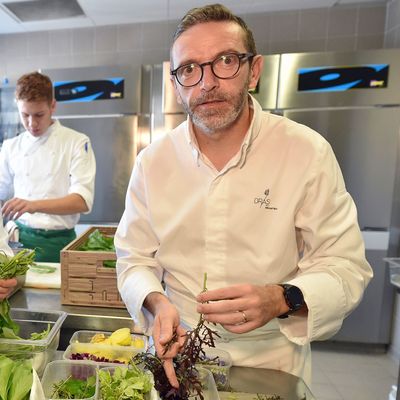 Sébastien Bras.
Photo: REMY GABALDA/AFP/Getty Images
All right then, fork them over. The powers-that-be at the always-controversial Michelin Guide has given in to a French chef's desires to relinquish his restaurant's stars and be dropped from the famous culinary guide. Back in September, Sébastien Bras — son of acclaimed chef Michel Bras — told the AFP that he wanted to forfeit the three stars that his restaurant Le Suquet had held for the last 18 years. His restaurant is 1 of only 27 in France with three stars — famously the guide's highest honor — putting it in rarefied territory. Chefs express their displeasure with the guide from time to time, but it was nevertheless an unusual request. According to Michelin, it's the first time it's happened.
Explaining the decision, Michelin's Claire Dorland Clauzel tells the AFP that "it is difficult for us to have a restaurant in the guide which does not wish to be in it." As for Bras, he says that he was no longer keen to deal with the stress of knowing that a single botched dish could affect his reputation. Le Suquet serves 500 meals a day, he tells the AFP, any one of which could be inspected. (Which, yes, sounds stressful, but if you're charging the high prices typical of three-star Michelin restaurants, making sure that no dish is subpar seems like, you know, a reasonable standard.) Giving up the stars, Bras explains to the AFP, is his chance to start a new chapter and not have to worry about those silly Michelin inspectors.