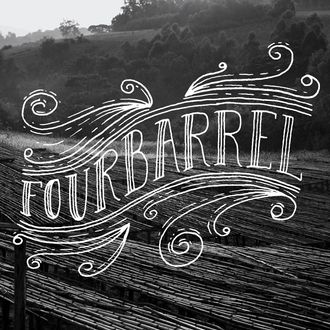 Jeremy Tooker has agreed to leave the company.
Photo: Four Barrel Coffee
One of third-wave coffee's biggest names has stepped down. Over the weekend, the San Francisco Chronicle reported that eight former employees have accused Four Barrel founder Jeremy Tooker of various kinds of misconduct in a new lawsuit, from joking explicitly at work to forcibly groping workers at company parties.
Like with almost all of the other reports of misbehavior in the hospitality world, the women say Four Barrel's workplace was overtly sexual, and that they felt powerless because their complaints were dismissed by HR. The lawsuit has two plaintiffs who accuse Tooker of sexual assault and seek damages from him and the company. Among the lawsuit's claims: Tooker pulled one woman's pants "down to her thighs" and got on top of her on a hotel bed, and tried to kiss another with such force that it caused "soreness on her neck." One adds that she visited the ER after one party, fearing she'd been roofied, and there are reports of Tooker making staff play games like "Kiss or Slap," in which everyone had to choose which action they wanted to do to him.
Those alleged incidents all occurred at alcohol-fueled parties in 2015, but the Chronicle describes a "rampant sexual misconduct" in the actual workplace, too — "Suck It" mugs in the merchandise section, and off-menu items like the Dickens Cider, apparently so named because it sounds like the customer is saying "dick inside her."
Tooker was one of the founders of Ritual, an early third-wave roaster in San Francisco, and was also behind the "artisanal toast" craze that erupted back in 2013, when he introduced it at a café that he opened with Josey Baker Bread. Four Barrel has three physical locations, does wholesale to restaurants and cafés, and runs a thriving coffee-subscription business.
Tooker hasn't issued any sort of public statement, but he divested from the company on Saturday. Four Barrel's other two co-owners, Tal Mor and Jodi Geren, say they're "deeply saddened" by the lawsuit and are taking it "very seriously." They're accused by employees of knowing about Tooker's behavior and not doing enough to stop it, but their official statement promises to take "prompt action to address any and all employee concerns," and it appears that they've temporarily shuttered locations.