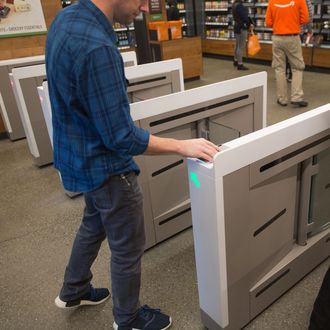 Shopper no doubt heading toward the LaCroix and kale chips.
Photo: Mike Kane/Bloomberg via Getty Images
After over a year of testing (some of which didn't go so hot), Amazon is ready at last to unveil its automated 7-Eleven killer to the public today. Doors opened at 7 o'clock this morning at the inaugural Amazon Go, which is located, conveniently, at the bottom of Amazon's main Seattle office tower, a symbolic reminder that Jeff Bezos & Co. are watching over your every move once you step inside this fancy, checkout-free store.
According to early media walkthroughs, you enter via glass turnstiles that only slide open when you scan the Amazon Go app on your smartphone. You're then free to browse for typical bodega fare — chips, sodas, and beer, trail mix, canned soup, ready-to-eat sandwiches, and whatnot. There's no register in sight, so to "buy" an item, you exit through the turnstiles and your Amazon account gets automatically billed for whatever's in your hands. The only place you're likely to encounter a real-life human is in the beer-and-wine section, where Amazon's robots apparently can't yet check IDs reliably enough to replace people.
Sleek black shelves, wood paneling, aisles stocked with the 365 Everyday brand — this seems familiar, doesn't it? Ah, right, because it's almost identical to what's inside the organic grocery chain Amazon just paid $13.7 billion to buy. Amazon swears it has "no plans" right now to put the cashierless technology inside Whole Foods stores, but only time will tell if minds change about that.
Amazon is apparently pushing one non–Whole Foods item hard: the new meal kits it debuted a few months ago. Early reports show they occupy an entire shelf, with dinners for two, like a Parmesan pork loin with green beans and new potatoes, running a little under $20 apiece.
The other big difference from Whole Foods, of course, is the Orwellian number of cameras hanging overhead in the 1,800-square-foot store — "hundreds of them," by the New York Times' count. Recode's Jason Del Ray shows you what they look like:
During initial tests, the store faced "technical issues" where the cameras would freak out if too many people entered or even dared to "move too quickly," but Amazon seems to have troubleshot that problem. Times reporter Nick Wingfield says he tried "with permission from Amazon" to shoplift a four-pack of soda, but the bots couldn't be fooled and charged him for the purchase.