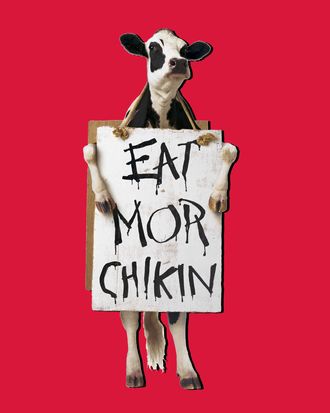 This cow apparently represents one Chick-fil-A's breastfeeding policy.
Photo: Chick-Fil-A
Chick-fil-A's second location in all of North Dakota made a memorable grand entrance on Saturday by kicking out a diner who was breastfeeding her infant inside the restaurant. Macy Hornung says she, her husband, and their baby were eating at Fargo's very highly anticipated new location — about an hour south of the state's first, in Grand Forks — and that she decided to nurse her daughter while sitting at the table. Per North Dakota law, that's totally cool, but the location was in its soft-opening, and owner Kimberly Flamm was (by her own assessment) especially keen on providing "a warm and welcoming environment for all of my guests." She approached their table and told Hornung that she had to cover up, or leave.
"I was showing no more than the upper portion of my breast, barely more than what was visible in my shirt," Hornung wrote in a Facebook post. "I tried to explain that I couldn't [cover up], because my baby refuses to be covered," but Flamm reportedly lectured her about how men and kids could see her "indecency," and eventually said she had to go.
Hornung responded by citing North Dakota breastfeeding laws, then left, but told Flamm that she'd be "relaying the experience" to "every local mommy group."
Naturally, an uproar has erupted online — Facebook Court is in full session on the new location's page, which has been thoroughly overtaken by commenters either vowing to "never, EVER eat at this restaurant," or predicting that "a unisex bathroom" will be next if Christian-run Chick-fil-A caves on this.
Unfortunately for the latter group, Flamm has caved. She posted an apology on Sunday saying she mishandled the situation, and telling breastfeeding moms they can expect a friendlier dining experience in the future.