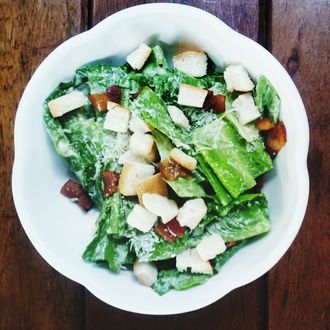 Lay off the Caesar "for now," experts recommend.
Photo: Ekkawit Sittiwa/Getty Images/EyeEm
Feds are trying to get to the bottom of a dangerous E. coli outbreak spreading across the U.S. and Canada that seems tied to romaine lettuce, and food-safety experts say that until they do, it's probably smart to just stop eating it. According to the CDC, five Americans have been hospitalized so far, and one has died. There's also been one reported death in Canada.
The food-safety team at Consumer Reports is advising consumers to find a different lettuce until the cause is identified and tainted products are removed from stores. (That moment to start better appreciating frisée? C'est arrivé!) Canada's Public Health Agency has already said that it was romaine that killed 1 and sickened at least 41 people in five of the country's provinces. America's onsets appear concentrated between the end of November and the start of December, but, again, authorities aren't sure what exactly is infected, so they can't say that the threat is contained.
The CDC is aware of 17 infections right now in 13 states — a group that runs the geographic gamut from the West Coast, though the Rust Belt, to the top of New England. Consumer Reports' researchers say romaine is especially hazardous because it's almost always eaten raw, and the director of its Food Policy Initiatives advises the FDA to do what the Canadian government did and "immediately warn the public" about romaine's potential risks. Otherwise, she adds, "more may get sick."