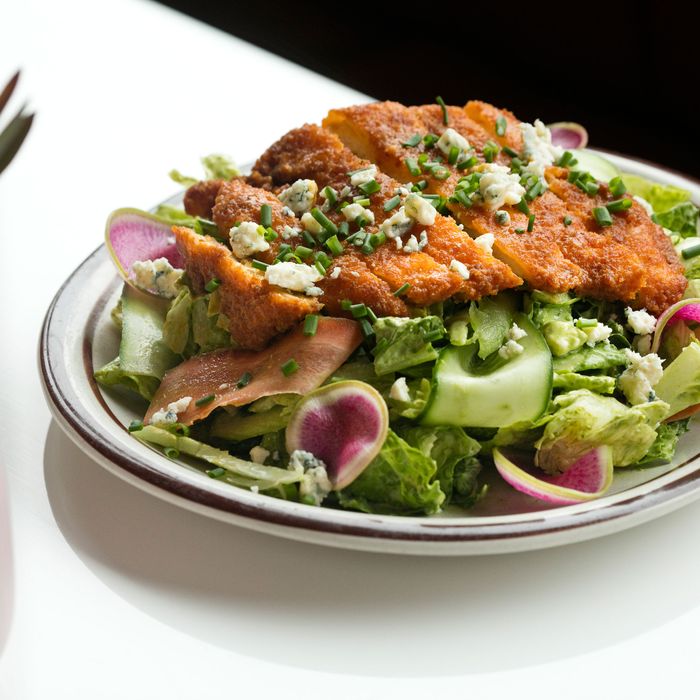 Buffalo chicken salad from MeMe's Diner.
Photo: Melissa Hom
Not that long ago, I decided I should eat everything Buffalo-ed. I was eating a Buffalo-chicken sandwich, and it made me realize: Why not eat everything covered in Buffalo sauce? Oysters, pizza, tofu. Even cauliflower — cauliflower, which normally tastes the way beige looks — is amazing when it's bathed in a combination of vinegary hot sauce and melted butter. What food doesn't benefit from that kind of spa treatment?
This is not to disparage classic wings, the messiness of picking them apart, the crispy skin, biting through into the chewy cartilage, and the satisfaction of leaving them perfectly clean before moving to the next. But really, the sauce is the thing and there's no reason to stop at putting it on wings. How lucky, then, that New York's various chefs and restaurateurs seem all too happy to accommodate my (admittedly ambitious, and almost certainly doomed-to-fail) plan to eat all sorts of different foods covered in classic Buffalo sauce. Should you feel similarly about the sauce of the gods, here are a dozen ideas to get you started.
Buffalo Fried Oysters
Where: Greenpoint Fish & Lobster
How Much: $14
The seafood market-slash-restaurant occasionally serves these as a special (and will this Super Bowl Sunday), which is too bad because you'll want them all the time: six plump oysters that are juicy on the inside and crunchy on the outside, tossed lightly in Buffalo sauce so you can still taste the brine.
Buffalo Chicken Mac 'n' Cheese
Where: Jacob's Pickles
How Much: $14
Hot sauce and cheese go together like peanut butter and jam. It's not something you want to eat everyday, but sometimes the moment calls for penne and diced Buffalo chicken covered in cheese.
Buffalo Chicken Salad
Where: MeMe's Diner
How Much: $17
It's country food through and through on a menu larded with nostalgia (meatloaf, coconut cake, fluffer-nutters for brunch), but better than you ever had in the suburbs: strips of crunchy, craggy crusted chicken painted with Buffalo sauce and nubbins of bleu cheese served over a salad of greens and thinly sliced watermelon radish lightly dressed with not-too-rich Green Goddess.
Buffalo Wings
Where: Old Town Bar & Restaurant
How Much: $9.50 for a small, $13.25
In the event you're the type that feels terroir (read: an old, preferably dusty and dark bar) is essential to the Buffalo-wing experience, they do right by them at this Flatiron tavern.
BBQ Chicken Wings
Where: Pig Bleecker
How Much: $14
Traditional these are not: The wings are frenched into lollipops and smoked, dressed with a sauce made of hatch vinegar and butter, and served with mayo-based Alabama white sauce on the side. If you're after cheffed-up wings, these are what you want.
Buffalo Chicken Pizza
Where: Pier 76
How Much: $19-$21 for a pie
Frequently delicious, infrequently understood: The story of Buffalo chicken pizza. The chicken is sautéed in Buffalo sauce, not fried, but take one bite and you'll let it go.
Buffalo Style Cauliflower
Where: The Ribbon
How Much: $14.5
Should you desire your Buffalo cauliflower uptown, with bleu cheese, the Bromberg Brothers Upper West Side restaurant has you all covered.
Buffalo Cauliflower Pizza
Where: Screamer's
How Much: $23 for a medium or $28 for a large
If you are (a) a Buffalo pizza nut but (b) a vegetarian, you're in luck: Vegan pizzeria and Champ's sister spot Screamer's does right by the gourmet classic, subbing out chicken for cauliflower and adding in vegan ranch.
Lollipop Chicken Wings
Where: Walter Foods
How Much: $10
Walter's trades in not-too-fussed-over comfort food, messing with the original only in so far as frenching them so you have a clean handle.
Chicken Tenders
Where: Westville
How Much: $9
Chicken tenders are well and good, but they're well and very good when Buffalo-ed.
Tempeh Wings
Where: Champs Diner
How Much: $11
Here, Buffalo faux wings are made with tempeh and served, of course, with crudité and vegan ranch. That Buffalo-ed tempeh is also available as a salad with faux ranch dressing ($13), and there's a Buffalo chik'n sandwich ($13) with yet more ranch. So you could have a three-course Buffalo meal if you'd really like.
Buffalo Wings
Where: Dan and John's Wings
How Much: $8.27 for 5 to $63.37 for 50
Of course, it may be regular old wings you're after and, if that's the case, it's hard to do much better in this city then the ones served at this Smorgasburg pop-up turned East Village shop.