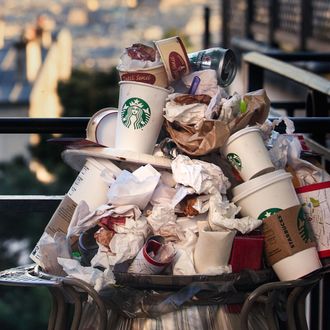 Lawmakers say it's time to "kickstart a revolution in recycling."
Photo: Stella Levi/Getty Images
High-street coffee may be ethically sourced, but the British government says the unrecyclable cup it's served in is an environmental scourge. The House of Commons Environmental Audit Committee in Parliament wants a "latte levy" imposed on coffee cups — a move members believe will show citizens how much waste their country produces in general, and how wasteful coffee cups are in particular. They suggest a tax of 34 cents per cup, arguing that the revenues could help pay for England's waste-management and recycling facilities.
Some 2.5 billion coffee cups go into England's trash every year, enough to encircle Earth half a dozen times. "Almost none" of them are recycled, the committee notes, and neither the coffee industry nor the government itself has really tried brainstorming a solution. To give them an incentive, lawmakers also want their tax to give way to harsher measures — if England's coffee cups aren't 100 percent recyclable by 2023, they propose switching to an outright ban.
The levy would increase cuppa-joe prices considerably, bad news for both coffee chains and drinkers. Shockingly, the British have lots of opinions about the idea of having to pay it every day:
Unsure of how else to hammer eco-mindedness into customers, Starbucks said today that it will try a preemptive cup charge of its own. About two dozen London cafés will test out a seven-cent fee for drinks served in disposable cups, coupled with "prominent marketing of reusable cups." According to the BBC, other chains like Pret a Manger, Costa Coffee, and Greggs Bakery will rely on reusable-cup discounts, and just hope for the best.