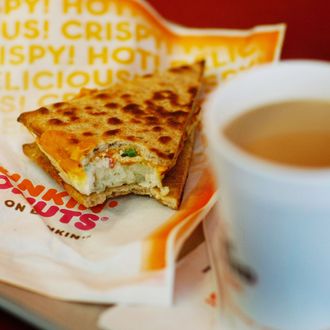 Chopped, alongside dozens of other menu staples.
Photo: Joe Raedle/Getty Images
Dunkin' Donuts, you might recall, is in the process of decluttering. Things that didn't land in the "Keep Me" pile include half of the name (buh-bye "Donuts") and a bunch of the chain's food options, part of an effort to market Dunkin' as "a beverage-led brand and coffee leader," not what you mistakenly believed it was: a passable doughnut-maker where you'll also find caffeinated drinks that are slightly more palatable than 7-Eleven's. To complete this coffee-centric tack, the chain actually started testing a simplified menu this summer at a few locations. The Boston Globe reports that somehow the locals didn't revolt, and as a result, Dunkin' now feels safe rolling the changes out today nationwide.
Previous reports said the chain could nix up to half of its doughnut arsenal, but luckily for fried-dough fans, that carnage looks unrealized. However, the cuts — which went into effect today in New York and New England, and will migrate sort of southwestward till they've reached every store by the end of March — still affect dozens of menu items.
Here's the list of food Boston.com says got the boot:
• Turkey Cheddar Bacon Sandwich
• Ham & Cheddar Sandwich
• Big N' Toasted Breakfast Sandwich
• Angus Steak & Egg Breakfast Sandwich
• Tuna Salad Sandwich
• Chicken Salad Sandwich
• Flatbreads
The casualties also include an undeclared number of baked goods and cream cheeses. Boston.com suggests that the items eighty-sixed in tests this summer might've now gotten axed for good — these include Honey Bran Raisin and Reduced-Fat Blueberry muffins; plus Garlic, Blueberry, Onion, Salt, Whole Wheat, Poppyseed, and Sour Cream & Onion bagels, and all Bagel Twists; then danishes, brownies, cookies, and cream cheese in the Reduced-Fat Plain and Chive & Onion varieties, too. Dunkin' also did away with strawberry-banana and mango smoothies as well as the peach, caramel, and mocha flavor shots (i.e., those low-cal flavor enhancers, not the sugary drink "swirls").
It's interesting what's on the chopping block: add-ons (cream cheese, jugs of unsweetened flavorings) that likely didn't make money proportional to the space they occupied; a "steak" sandwich that begat a legal headache after people discovered that it's made from ground beef; a bread type that once represented Dunkin's stab at "healthier" menu options; and then other so-called "slow" food items (that adjective is a negative here) like, presumably, the smoothies.
Dunkin' insists that the new streamlined menu will yield "faster, more accurate service" and "a more consistent consumer experience from store to store." The changes also occur alongside an announcement that for 2018, Dunkin' has "removed artificial dyes from its donuts." The point is ostensibly to make them more natural, but customers might feel cheated by this, too — Dunkin's presser says that doughnuts "are no longer being made using colors from artificial sources*." The asterisk links to a disclaimer explaining that, well, actually, dyes are still cool for the chain's special-edition doughnuts.