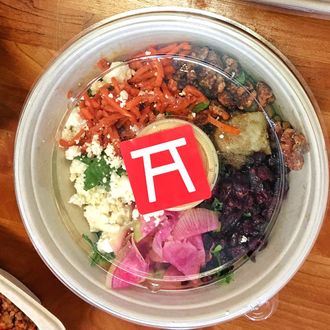 One less option for lunch.
Photo: Ando
Ando, David Chang's delivery-only restaurant, has been gobbled up by UberEats. New Yorkers hoping to order the year-and-a-half-old start-up's fried chicken or cheesesteaks (or visit its singular brick-and-mortar location in Union Square) are out of luck starting today. Since the concept debuted back in May of 2016, UberEats has been the primary deliverer of Ando's relatively simple menu of mostly lunch staples, cookies, and bottled drinks; it's probably no surprise then that Uber's indefatigable food division would end up the new owner.
The changes are already clear on Ando's website, which is now just one page bearing a high-res pic of its cheesesteak and a heartfelt good-bye. "To all our customers, thank you for inviting us into your homes and offices," it reads. "You were as much a part of this company as all of us, and it was a pleasure serving each of you."
The site adds that Ando's "team and technology" will be transitioning to UberEats, where they'll continue to "play a role in their vision of building the world's leading food delivery service going forward." That's pretty vague, and Uber's statement to TechCrunch was no more illuminating — that Ando's insights "will help our restaurant technology team as we work with our restaurant partners to grow their business."
At its launch, in the middle of the food-delivery craze, Ando promised to elevate Manhattan's delivery options. But as Chang himself has acknowledged, competition with food delivery is stiff, and the margins are thin — last spring, he even admitted to making a couple of fumbles with Ando, but described them as generally "the right kinds of mistakes" that yielded "healthy criticism." This came on the heels of his other delivery investment, Maple, which is also shutting down.