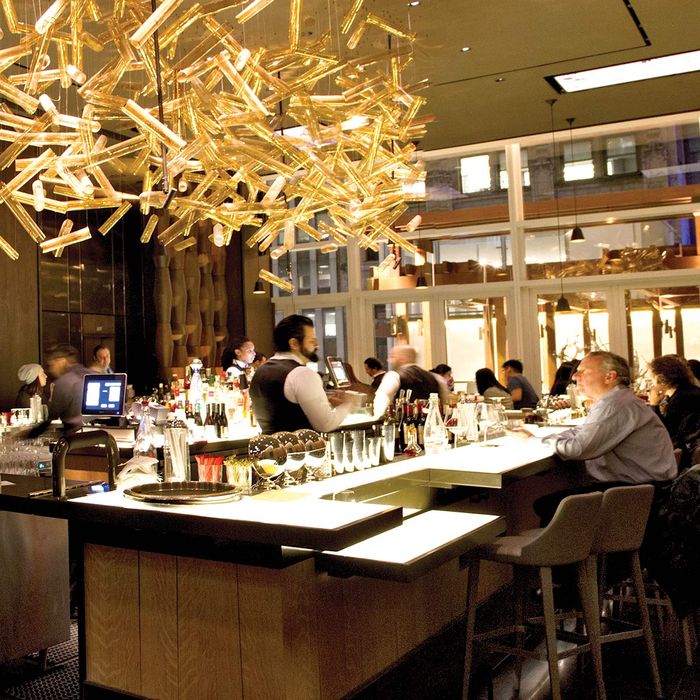 DaDong.
Photo: Jemma Hinkly/New York Magazine
It's safe to say that grizzled New Yorkers who've subsisted over the decades on a steady diet of soup dumplings and warmed-over containers of carryout crispy orange beef have never seen anything quite like the eagerly awaited, elaborately hyped midtown Peking-duck palace DaDong. Instead of the usual cramped quarters out in Flushing or down on Mott Street, the glittering outpost of this popular Chinese dining empire occupies two glass-enclosed floors off a pedestrian plaza near Bryant Park. There's a terrace for outdoor dining and a wraparound bar that serves cocktails tinged with ingredients like black-lava salt ("Fire Rooster") and coconut water ("Tiger Style"). The house fried rice is tossed with Wagyu beef instead of shreds of recently unfrozen shrimp; the chef's signature roast duck comes with a supplement of caviar, if you wish; and, in deference to local tastes, the cold noodles are flavored, radically, with avocado.
"This feels like the Disneyland of duck restaurants," one of my daughters declared as we inspected our long, tapering chopsticks, each pair bound with identical little tassels of red silk, and peered out from our window table at the hordes of frozen tourists shuffling up and down 42nd Street. There were plenty of other tourists sitting around us, though like Americans huddled together at a distant Disneyland on the outskirts of, say, Shanghai, many seemed to be DaDong groupies, chatting together in Mandarin. Like us, they were probably familiar with the legend of Dong Zhenxiang, the eponymous chef-owner, who began roasting ducks in Beijing back in 1985. As tastes in the booming country evolved, he evolved, too, inventing a proprietary method for preparing the duck; launching ever more DaDong outlets, with all sorts of gourmet flourishes on the menu; and eventually winning coveted Michelin stars for two of his restaurants in Shanghai.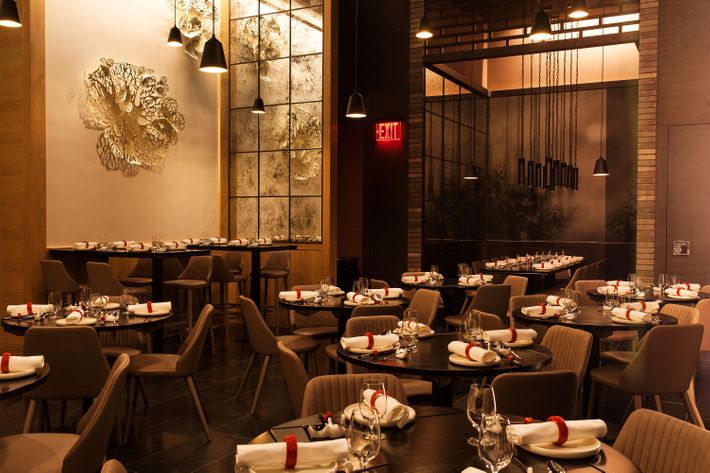 There are now four DaDongs in Shanghai, for the record, along with numerous others in high-profile, food-mad cities like Beijing and Chengdu, the capital of Sichuan Province. There's also a burgeoning new line of fast-casual "duck burger" establishments in the company portfolio, and if you feel so inclined, you can sample Dong's flowery, fusion-y brand of Chinese cooking onboard a Royal Caribbean cruise ship. But DaDong New York is the first venture outside China for the towering chef (da means "big" in Mandarin); according to the company's voluminous press materials, several of his specially designed, round, wood-­burning ovens have been shipped over for the occasion, and his group of duck experts have spent two years developing the perfect Peking-style roasting bird in tandem with a farm in Indiana.
Before we tasted Chef Dong's vaunted duck, however, our little team of eaters had to chew through a series of elaborate dishes, many of which combined the overwrought elements of Michelin-fueled ambition and style with the clunky, Disney­fied overtones of a random corporate restaurant chain. No one complained too much about their dumplings (order the crystal vegetable buns), but my Chiclet-­size bits of sweet-and-sour pork rib were obscured in a darkly viscous, oversweet sauce and then finished tableside, for good measure, with a dusting of powdered sugar. Other dishes were sweetened in a similarly heavy-handed, Willy Wonka way — the cold, grimly goopy lotus root with glutinous rice; the $62 song shu crispy whole fish, dressed with tiny melon balls—and those that weren't (the aforementioned avocado noodles, my sticky little wheel of uni rice) had the slightly clammy, premade taste of food that's been sitting in the refrigerator too long.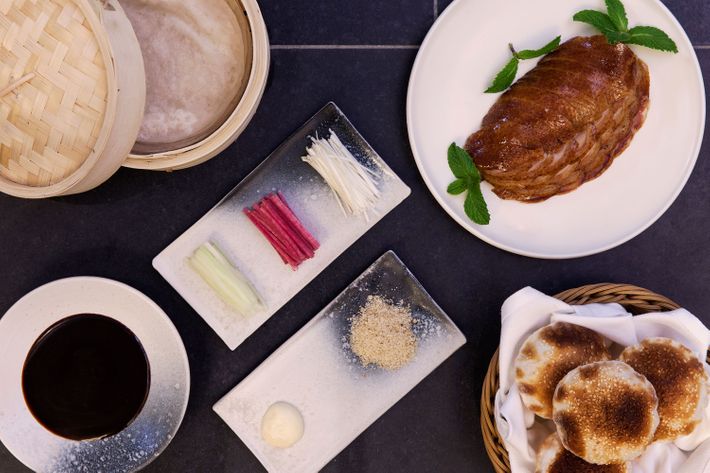 My daughters are on record as preferring even a second-rate example of Peking duck to almost any dish on earth, and when the main course finally arrived at our table, they did their best to cheer up their increasingly grumpy father. "Five stars for these pancakes, Dad!" one of them said hopefully, which was arguably true, although the brittle sesame buns, which are presented as an alternative to the steamy pancakes, turned to dust when I tried to load them with bits of duck. Five stars for the expertly carved duck skin, too, although I had to point out that the meat had a chalky, strangely listless texture ("Turkey tastes better," sniffed one of my duck-snob friends). The traditional condiments mask these deficiencies well enough, but the chef's newfangled innovations — an aïolilike garlic paste, julienned melon, and, yes, more sugar — have the odd effect of turning this regal, time-tested delicacy into something less than Peking duck.
New York is awash in decent Peking-duck facsimiles these days, but at $98, not including the caviar supplement (or the carcass, which is whisked away), Dong's version is officially among the most expensive in town. On the evenings I visited, this price included an overloud soundtrack loop thrumming relentlessly above the crowded tables and service closer to what you'd find on a ­shakedown cruise aboard ­a Caribbean liner. Dishes appeared in a confused flurry, or not at all, and when we asked for a bottle of Riesling to go with our duck, we were reflexively directed to the most expensive magnum on the list. Dessert, when it mercifully arrives, is a mostly mixed bag of clichéd traditional Chinese (bean cakes) and clichéd Western "gourmet" (the "multi-flavored white chocolate shells"), but if you want an ingenious combination of both, call for the ice cream, which is folded with tart slivers of dried tangerine peel.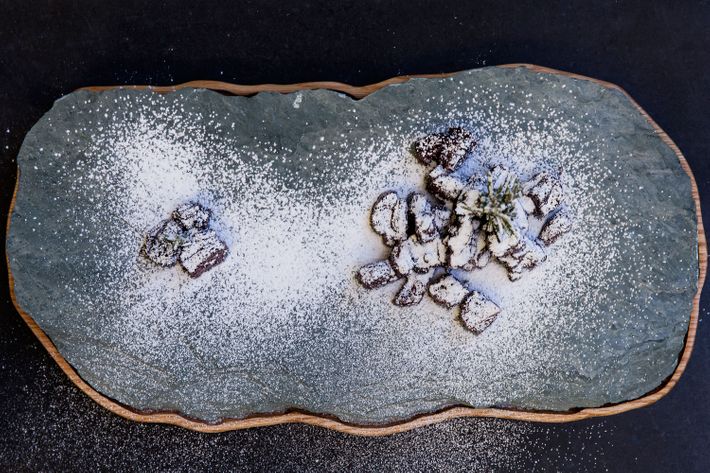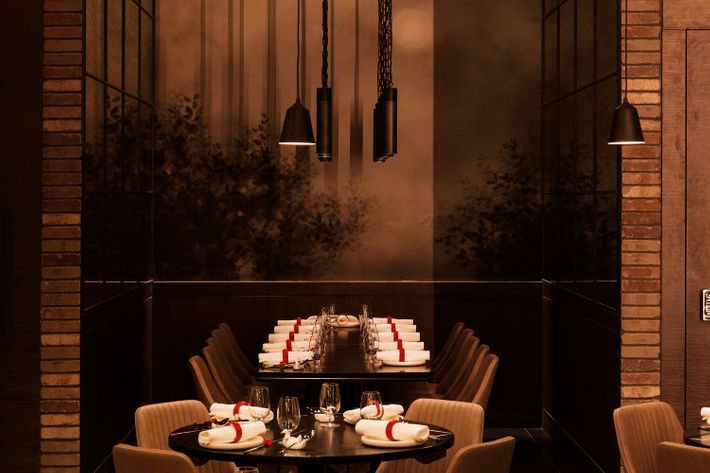 No Stars
DaDong
3 Bryant Park (enter at plaza nr. Sixth Ave. bet. 41st and 42nd Sts.) 212-355-9600; dadongny.com
Open: Lunch and dinner daily.
Prices: Appetizers, $6 to $21; entrées, $12 to $195.
Ideal Meal: Crystal vegetable buns, DaDong roast duck, dried-tangerine-peel ice cream.
Note: According to press reports, the restaurant's online reservation system was flooded with more than 2,500 requests when it went up, but there seemed to be plenty of available tables on my last visit.
Scratchpad: One hesitant star for the duck (although there are better examples, even in midtown). Minus a star for the prices, the sugary non-duck dishes, and the service.
*This article appears in the January 22, 2018, issue of New York Magazine.