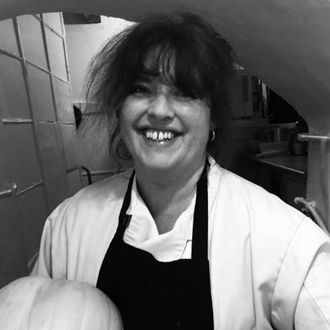 "We totally understand the anger," the restaurant has said.
Photo: Laura Goodman via Facebook
An Italian chef in the U.K. is trying to escape the wrath of every meat-avoider with internet access after openly suggesting she'd served animal products to a vegan customer. Laura Goodman, chef and co-owner of Carlini in Shropshire, posted a Facebook message following an apparently frustrating night on December 29 with guests that simply read: "Pious, judgmental vegan (who I spent all day cooking for) has gone to bed, still believing she's a vegan."
Goodman wrote it on a page called the Boring Group that's closed to outsiders. But when other members replied back dumbfounded, she didn't walk back the claim. "Spiked a vegan a few hours ago," she added. Commenters asked if she meant she'd added something nonvegan to a customer's meal. She responded by saying, "Actually I should have said 'they're' not a vegan … not 'she's,'" seemingly revising the number of people she'd duped. Goodman then added:
Started with asking me to telephone them, over Christmas, to discuss the dietary requirements of their guests within a set time frame, and ended with me wondering why I'm explaining this simplistic post to a pious c—.
It was more than enough fodder to get both the restaurant and Goodman eviscerated online. Carlini's Facebook, Google, and TripAdvisor pages were flooded with one-star reviews like "Dishonest cook bragging about offering special meals that were not so. If you have any kind of medical or ethical dietary constraints, don't trust they will be honored here." Area vegans also tell the Daily Mail they're planning to march outside Carlini and call for it to be shut down.
Things sound like they're hurtling out of control in a hurry: Goodman's fiancé, who is the other co-owner, argues it's all a gigantic mix-up, and she's become "suicidal" as a result. He insists she didn't serve guests anything they didn't ask for — one of them reportedly "ordered a margarita pizza, which is not vegan-friendly," and all Goodman meant was that "if you were a vegan, you'd know that mozzarella is not vegan," he claims. (Well, unless you thought the menu options were all vegan, and assumed the mozzarella was one of any number of faux kinds out there.)
They say angry phone calls and legal threats have started trickling in "from all around the world," and according to Metro, local police have opened an investigation into the actual death threats Goodman's now also getting. U.K. food-safety officials, meanwhile, reportedly opened a separate investigation into the alleged "spiking," to understand what actually happened in the first place.