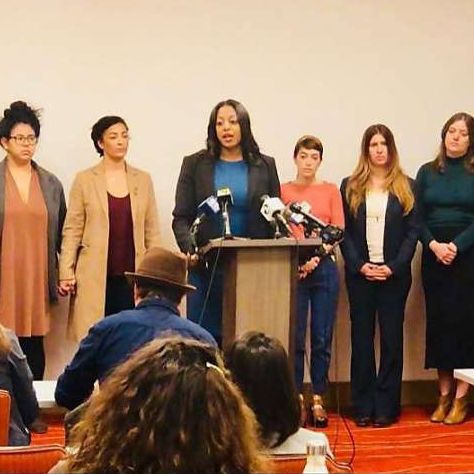 Yesterday's press conference.
Photo: Courtesy Hilaire McGriff PC
Nine of Charlie Hallowell's accusers have come forward publicly in hopes of pressuring their disgraced former boss to leave his restaurants. At a press conference yesterday, they issued a statement as they appeared alongside civil-rights attorney Mika Hilaire. The group feels that Hallowell's company — which runs some of Oakland's most popular restaurants — has been ineffective since the chef was accused last month of sexually harassing at least 17 former employees. They told reporters that they hope that stepping forward "not only helps the current employees at Hallowell's restaurants, but also helps the restaurant industry as a whole."
At this point, Hallowell has apologized and stepped back from the day-to-day business, while his restaurant group promises changes based on the results of an outside investigation. But the rapport with workers has tanked: Several managers just resigned in protest after Hallowell refused to meet their demands that he divest, and at yesterday's event, his accusers took turns calling him out. "In Charlie's restaurant, to survive was to avoid him," one of them said. An ex-bartender called this process "terrifying," and noted that there have been "attempts to bully and smear us," before adding, "but we will not be intimidated."
In their statement, they explained what they want. First, for Hallowell to cash out completely — he's not on salary right now, but he's still a stakeholder in the company, which is supposed to be opening its fourth restaurant soon. They also want anti-harassment policies that "have teeth," such as an anonymous hotline for employees, free counseling for employees who say they were harassed, and job references for anybody who wants to leave the company. They say it's a package deal necessary for "healthy work environments that allow us to do the work that we love with dignity."
The company's lawyer says they've installed a new chief operating officer — a former VP at Rubicon Bakery — who will eventually take over some of the chef's shares, but adds that Hallowell is also going through "a difficult process" right now, and that part of this process should include a "nonpunitive way of seeking reconciliation." In response, the women warn that if Hallowell chooses to not divest fully, that they haven't ruled out pursuing legal action.