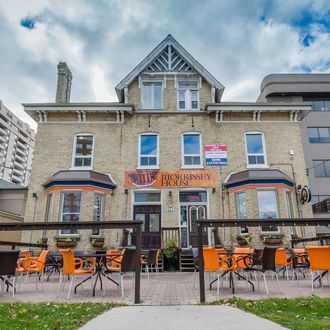 "It's his right," the owner says of the man's complaint.
Photo: Courtesy of the Morrissey House
A Canadian restaurant today started offering female customers a 13 percent discount to offset the wage gap … and a man who can apparently afford to waste the time to fight over a couple-dollars difference on a bar tab is already complaining that this unfair policy breaks the law. The Morrissey House — a London, Ontario, pub that serves up comfort food and a sizable beer selection — kicks off its "Mind the Gap" promo at lunch today, and plans to repeat it every Monday as a sort of riff on ladies' night. Women can use the discount on food purchases at lunch or dinner, the restaurant explained in a blog post on Saturday, and a portion of sales will be donated to women's advocacy groups.
Regardless, CBC reports that an Ontario man who heard about the discount has already threatened to report the Morrissey House to authorities, before the thing even went into effect. In fact, he reportedly told the restaurant that he's "adamant that the discount is discriminatory," the broadcaster says, and has vowed to file a complaint with the Ontario Human Rights Commission if Morrissey House owner Mark Serre doesn't get rid of it.
Serre tells the broadcaster, "As a general rule of life, women should get paid equally." He adds that women's nights exist elsewhere in London, so he's not too worried about the legality of his discount. He also wrote in a Facebook post Saturday night that he wishes the man "all the best," although notes that if the commission somehow rules against the pub, then the whole world may need his wishes for the best.
Also, if that 13 percent amount seems a little low for a gender-wage-gap discount, that's because, well, it is: That's how much less per dollar women in Canada make. A similar promo in the U.S. would have to give them 20 percent off.