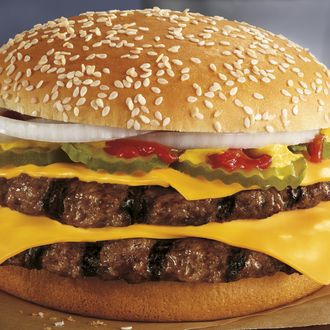 Looks familiar …
Photo: Burger King
If the only thing standing between you and a McDonald's Double Quarter Pounder is the fact that the two patties aren't flame-grilled, lunch could get super exciting today: Burger King has released a "Double Quarter Pound King," an unapologetic knockoff of its rival's sandwich. If your first question is Wait, you mean people still eat Quarter Pounders? — the answer is, it doesn't matter, because that sandwich is about to be McDonald's first with fresh beef very soon, regardless.
To crush any edge this might give, Burger King figured it would copy (or "improve," as it'd surely argue) the 46-year-old Mickey D's mainstay. The copycat was unveiled for the first time today in a new ad: It depicts a funeral for an unnamed — but extremely Quarter Pounder–esque — burger, then ends with the King triumphantly hoisting his knockoff sandwich into the air, and the bagpipe player switching from "Amazing Grace" to the much more upbeat "Scotland the Brave."
Subtle. Its press release also bashes "flat-top fried double quarter pound burgers" three separate times, a swipe at McDonald's flameless cooking method. Burger King brags that its faux Quarter Pounder is the "new generation" of four-ounce burgers, even if upon close inspection the changes don't look that radical. It just added fire, really: Ingredients are precisely the same as a Quarter Pounder's. Two slices of American cheese, white onion, pickles, ketchup, and a sesame-seed bun, instead of Burger King's standard toppings, which typically also include lettuce, tomato, and mayo.
It's also not the first time Burger King has trolled McDonald's with a blatant ripoff. The Big King was a 2013 effort to clone the Big Mac, albeit largely unsuccessful, since it's not on menus anymore.