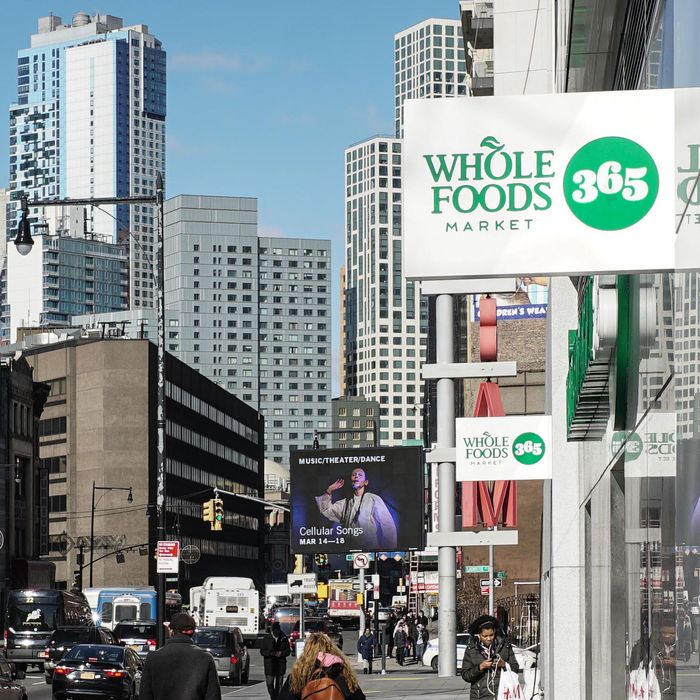 Right in the thick of things.
Photo: Whole Foods
Lost in the endless sea of Amazon news has been the fact that Whole Foods is very slowly but surely opening more outposts of its budget-conscious spinoff, 365. On January 31 — this coming Wednesday — the East Coast's first 365 store is set to open in Brooklyn, just down the street from the Barclays Center and the Atlantic Terminal.
When it opens next week, the store will occupy 30,000 square feet at the bottom of the spiffy new Ashland Place high-rise. (Although, strangely, that's 10,000 square feet fewer than Whole Foods cited as recently as December.) Whole Foods promises a café level stocked with food vendors, one of which will be the first non–West Coast location of Next Level Burger, which describes itself as "America's first 100% plant based burger joint." It will also have a Juice Press, and Orwashers — a century-old New York bakery — will sell a daily selection of pastries, breads, and sandwiches.
Besides lower-priced produce and meat and seafood departments, the store will have grab-and-go food bars and "nearly 30 artisanal cheeses," one of which is exclusivle to 365 shops.* Whole Foods is also already hyping the beer offerings: "Over 100 craft, domestic, and imported beers," a press release proclaims, plus shoppers will find the chain's first POURiT Authority — a cumbersomely named beer, wine, and cider area where you can use a reloadable card to serve yourself directly from a dozen rotating taps.
Industry analysts previously guessed that Amazon could be using 365 as "a testing ground" for its broader grocery-disruption scheme. The 365 brand has been around for two and half years, but the Brooklyn store is only the seventh location (and the first to open on the East Coast), although the website lists 16 more sites in eight states as "future stores." None of these have had progress updates in months, but if that list can be believed, maybe Amazon is getting serious about the lower-priced-chain side project. Either way, Brooklynites will have a new place to shop starting Wednesday.
*This post has been updated to more accurately describe the store's cheese selection, and to clarify that Roberta's products will not be sold in the store's café level, only its market.