As promised, Boris & Horton — the East Village's much-anticipated dog-friendly café — is in the home stretch, ready to officially open as soon as next week. And that means this week, the shop's owners greeted their first pack of canine visitors, a group that was invited into the space to make sure it meets the dogs' standards. Think of it like a furry friends and family. (The early verdict was that the dogs seemed into it.) It was also a chance for Grub to tag along to meet the pups, talk to the humans that own them, eat a few pastries, and to get everyone's thoughts on the new café.
Buddy, Poodle (owned by Rachel Horne)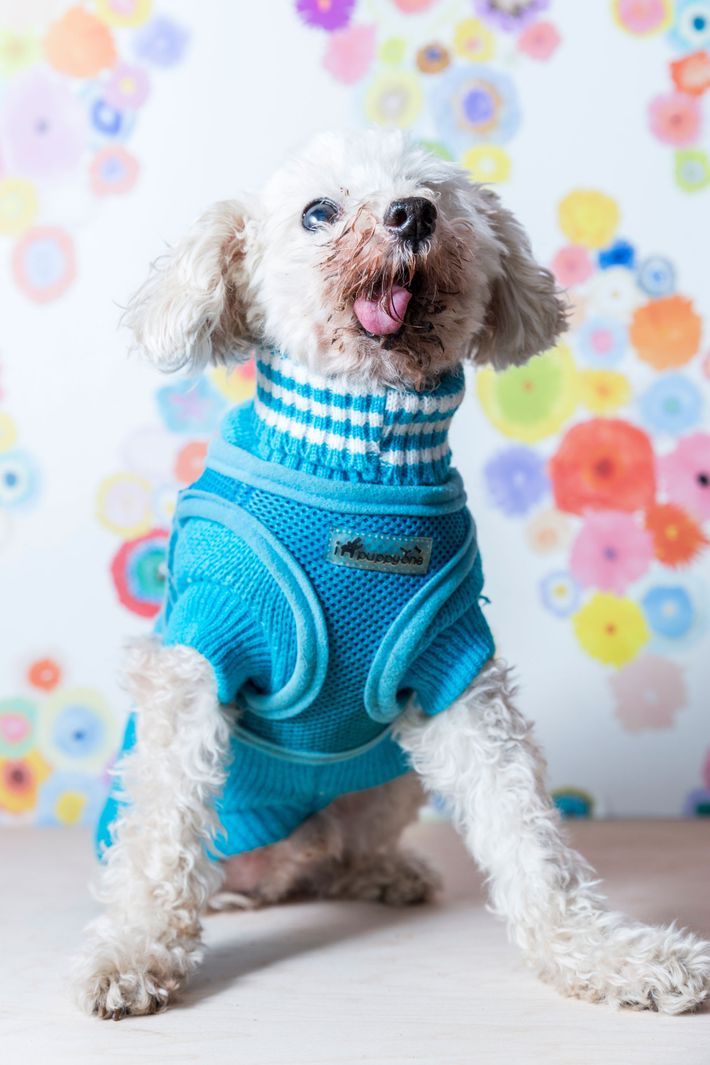 Who's your friend?
This is Buddy. He's a tripod poodle.
How'd you meet?
I foster through PupStarz. I really like seniors. They're the easiest. People don't know. My husband said he imprinted on me. We just hit it off, and we decided to keep him.
Does he always dress up?
He does like dressing up. You know, getting them on is not his favorite thing, but once they're on, he seems not to notice them at all. With the leg situation, he's been through a lot. He can deal with a sweater.
Lillie, Shih Tzu mix (owned by Gabby Manotoc)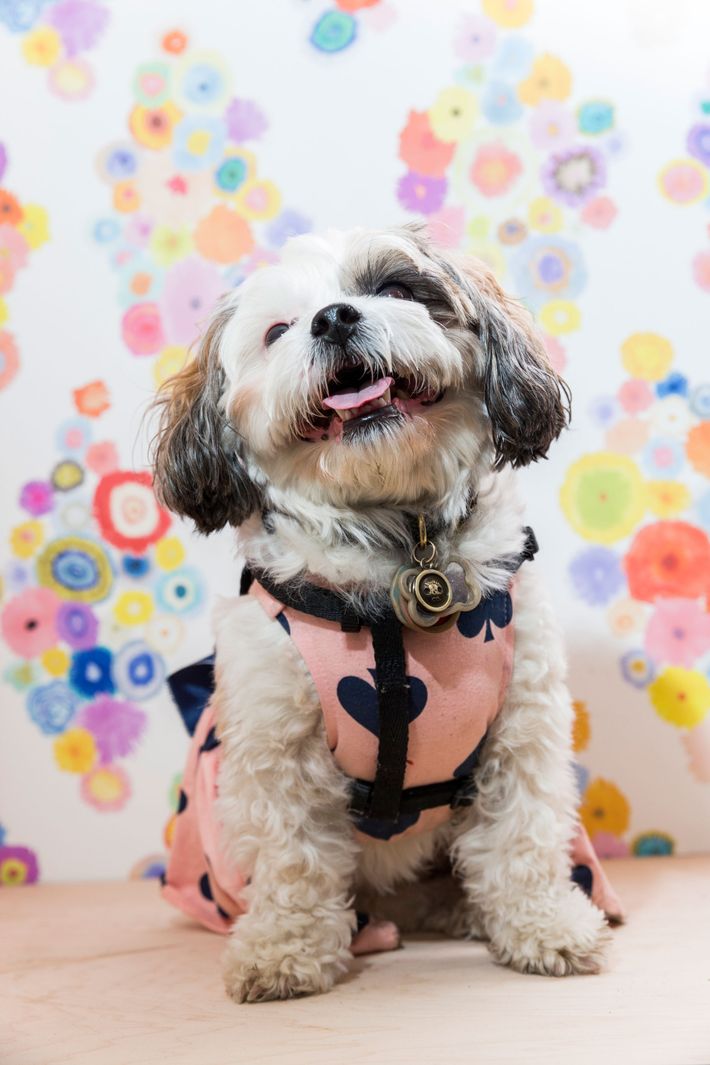 How long have you guys been together?
I got her maybe a year and a half ago. My parents actually have five Shih Tzu, so clearly there's a problem in the family. She was No. 4, and then my parents got two puppies after. She's my first dog on my own. As soon as we met, she was this friendly and this affectionate. She loves kissing; she loves men. She unbelievably loves men. In the park, she will go up to the guys and sit on their laps.
She's like a wingdog.
She's basically a wingdog, yeah. I bring her shopping; I bring her to work. I don't have anything after work, I'll take her. She loves it. I've taken her on the subway, on the Amtrak, on the Metro-North, on planes. She's gone everywhere with me.
Dakota, Dachshund (fostered by Alexis Yakes)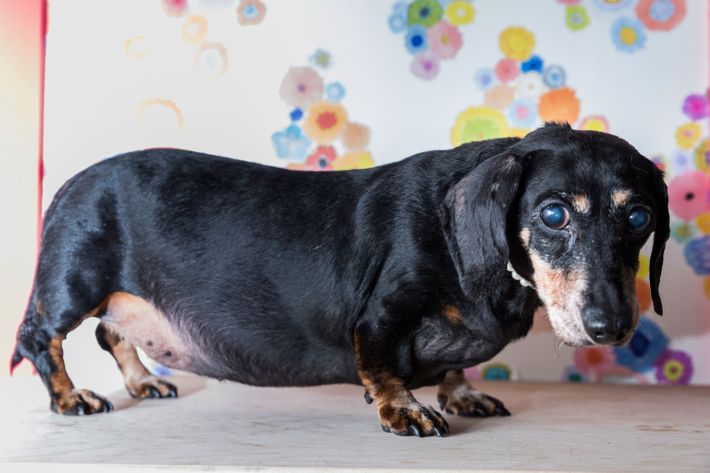 Who is this?
This is Dakota. She's up for adoption through PupStarz Rescue. She was an owner surrender, but it seems like her owner was hospitalized, so it's an understandable situation. She's about nine. She's about twice the size she should be, so we're going on a doggy diet. A lot of exercise.
You're fostering her?
Yes. She's my 45th foster or something. I've had her a couple days.
How's it going so far?
She is a loud snorer. She sleeps most of the day. She loves walking, though. Loves to watch Netflix. We've been watching Comedians in Cars Drinking Coffee. I think she likes to hear the vocals, the conversations. She sleeps through most of it.
Courtney, Lhasa Apso mix (owned by Harlee Caplan)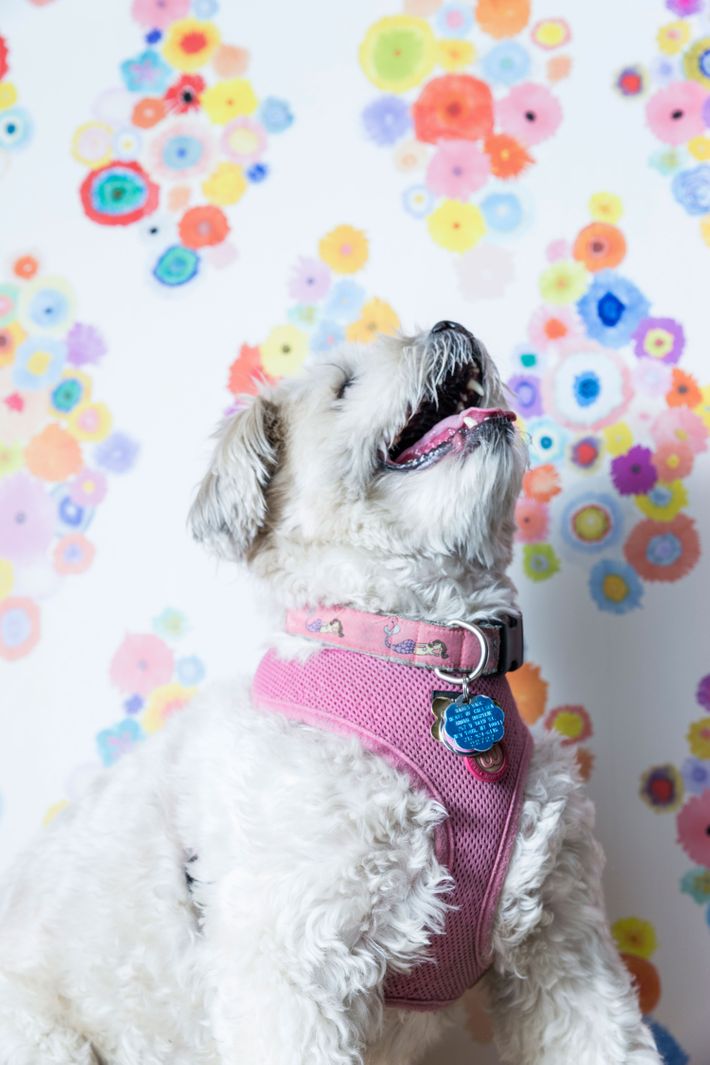 Tell me about Courtney
She was said to be a Lhasa Apso–American Eskimo mix. She's from St. Louis, actually. A rescue from a puppy mill.
What's her greatest fear?
She's afraid of men. Initially, then she warms up after a little while. And she's afraid of people picking her up when she can't see them.
Is she always so happy?
She's got a permanent smile on. I don't know if she's really smiling or if it's just her face.
How does she feel about coffee shops?
She loves it. She eats everything.
[Courtney eats a cupcake.]
Her first cupcake! After eight years.
Charlie, Min Pin Chihuahua mix (owned by Danielle Rosen)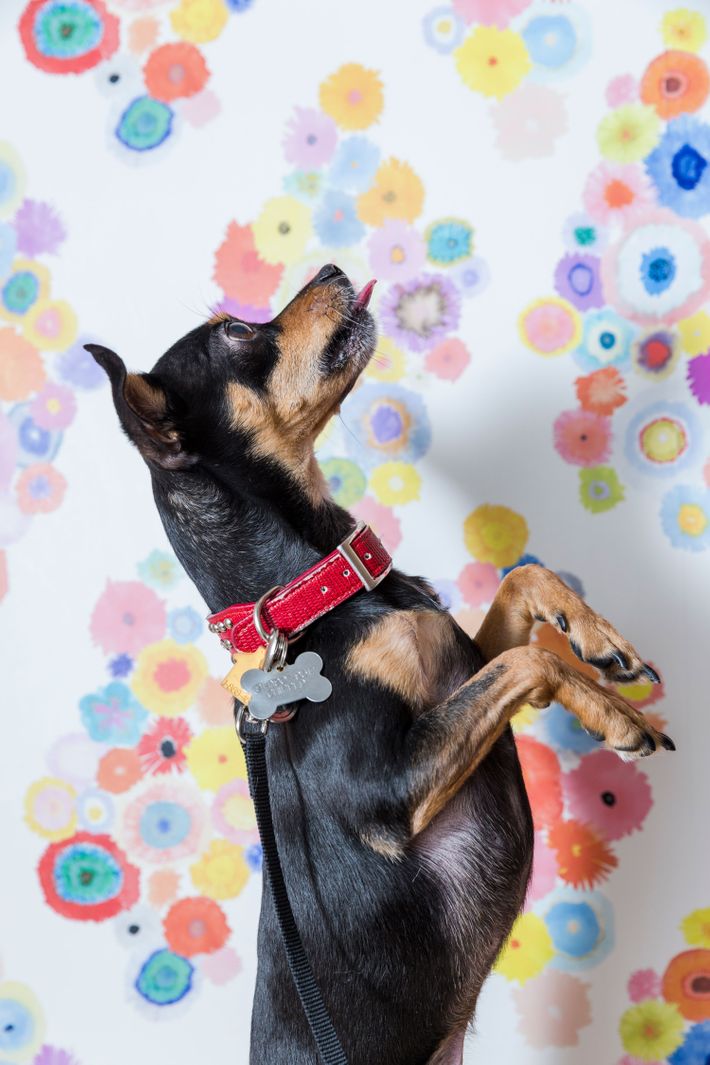 How old is Charlie?
He's like sevenish. It's a big ish. He came to me really scared of the bus sounds and the honking and the beeping, and now he's so not fazed by it anymore. He's obsessed with carrots. Obsessed. I hide them around the apartment, and he goes and finds them.
Do you think he's going to be a café dog?
Oh, yeah. If food is around to distract him from other dogs that might be too friendly, he'll be totally fine.
Any special skills?
He howls with sirens. He's super easy. He can hold his pee all day.
Muppet, Mutt (owned by Meredith Davis)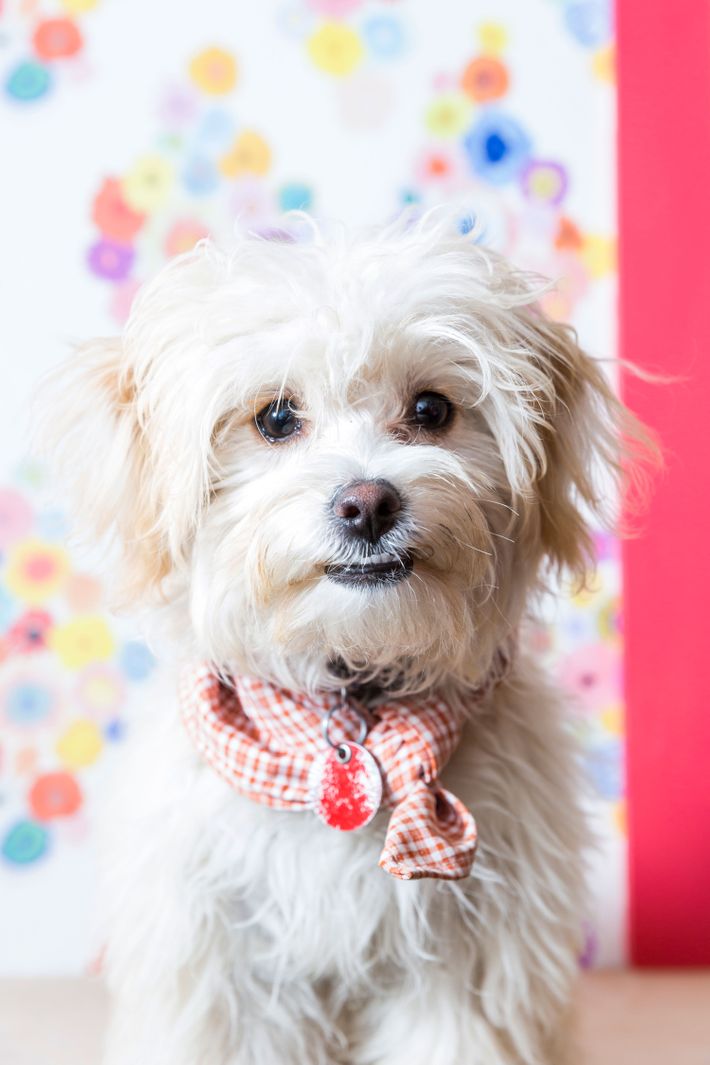 Did you name her?
Originally, she was Peach Pie. Her litter was born on the fourth of July in Texas. They were all pies. She was Peach Pie; there was Lemon Meringue, Blueberry. Seven pies.
I heard there was an incident on your wedding day?
We were just getting ready to leave for City Hall, and all of a sudden, she starts throwing up. It was a code-red dog situation. She was covered in coconut oil. I had accidentally left the cap loose, and she stuck her whole face in it. We literally had to leave in half an hour at this point. We called an emergency vet. She's from Badass Brooklyn, so I put a note on the Badass Facebook group, and within five minutes we got a response. We'd never met. It was just the nicest, kindest, unexpected thing. She literally just came and got her, and she was completely fine.
So Muppet missed the wedding?
She wasn't invited. They don't let dogs in City Hall.
How do you think she likes the café?
She ate a piece of cheese and a cupcake. And she got swag.
Leo, Red Nose Pit Bull (owned by Anne Brag)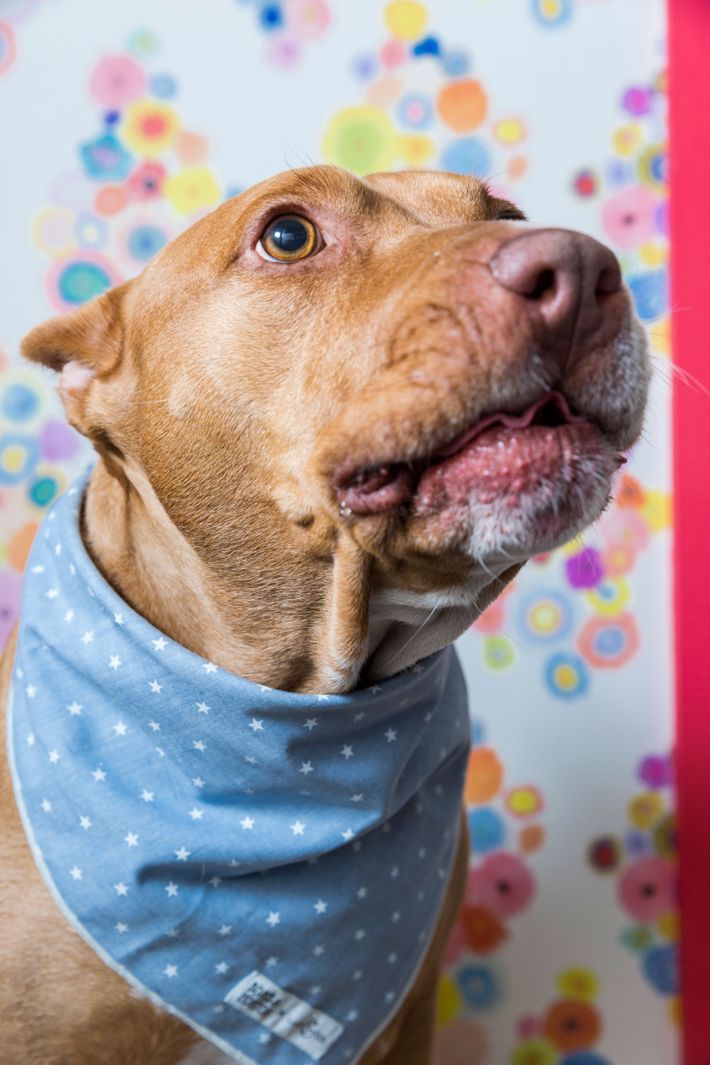 Is he a native New Yorker?
Leo was found in North Carolina on the side of the road after being hit by a car. A good Samaritan picked him up and brought him to a shelter that couldn't afford his care. They reached out to Rescue Dogs Rock, which works all along the East Coast. I met him right before his femur surgery, and I just fell in love with him.
What does he do for fun?
He loves going in the car so much. I rent a car for him, so we can go to the park. Ubers are sort of tough with a guy this big, so we rent a Zipcar for a few hours and we go to Hillside Park in Brooklyn Heights. He gets bullied by small dogs, but he loves it.
Is he going to become a regular here?
Yeah, absolutely.