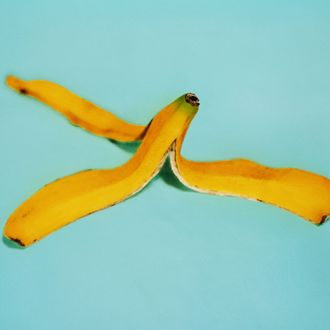 It's the work of a team that has "serious and successful" business experience.
Photo: Ffoto Fictions/Getty Images
Do you feel that what's missing from food commodities is more bitcoin blockchain technology, but personally prefer to mine something besides Hooters' HootClub points? Great, then you'll be very pleased to learn that a group of software developers and lawyers has teamed up with fruit farmers in Laos to create something they're calling the bananacoin.
It's exactly what you think it is, but here's their explanation anyway: "a utility token based on Ethereum, pegged to the export price of 1 kilogram of bananas." Among the numerous firsts, it's "the world's first blockchain option" for participating in the production of organic Laotian bananas, and the creators boast that it's capable of changing the banana industry the same way "Uber has revolutionized the taxi industry." (So, make snacks have surge pricing?)
It's a crowdfunding model in which you exchange investment in Laotian banana farms for digital "tokens" — the value of which is equal to the export price of one kilogram of bananas. It seems cryptocurrency miners have been aware of the project for a while, long enough to have already bought up almost 2.9 million tokens, but normal people only learned about it this weekend when a guy in the tech industry, start-up founder Zack Bloom, noticed a bananacoin ad on display at a cryptocurrency conference. Color him not impressed:
Bananacoin's goal is laudable, however absurd the idea of speculating on banana futures might be. As many people know by now, the common banana (a cultivar known as the Cavendish) is endangered. The team naturally wrote an entire white paper on this, but to save you the time: Their mission is to help stave off the banana's extinction by growing loads of a sweeter species called the Lady Finger, and then exporting it to China, home of the original Cavendish plant. Which is cool and all, but this do-goodism hasn't stopped people from ridiculing the reach into cryptocurrency, mocking the bananacoin's name, and making the inevitable Arrested Development allusions:
Cynics be damned, you can at least say this about bananacoin: It could make you rich in potassium beyond your wildest dreams.