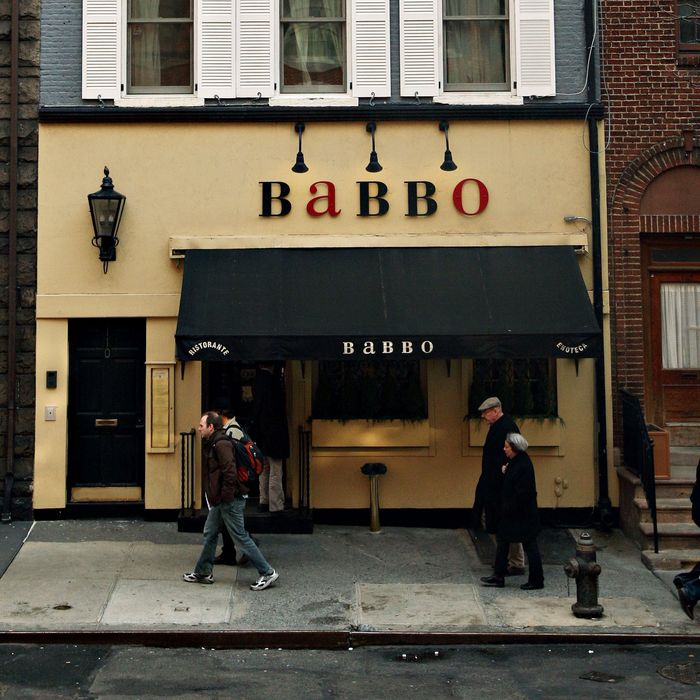 Frank Langello was named in a report about abuse at Mario Batali and Joe Bastianich's restaurants.
Photo: Daniel Acker/Bloomberg via Getty Images
The fallout continues in Mario Batali and Joe Bastianich's restaurant empire. Longtime Babbo executive chef Frank Langello, who has been accused of creating a highly abusive work environment, is no longer employed there, Eater reports. Opened in 1998, Babbo is the restaurant that took Batali's career to another level, and has made a unavoidable mark on the city's restaurant scene in both the imagination of the public and chefs. It's no exaggeration to say that it is one of the most prominent Italian restaurants in the city, and the country.
Langello worked at Babbo since 2000 and became its executive chef in 2002. The restaurant has received a steady stream of accolades before and during his tenure, but his public reputation as an abusive boss goes back to 2006. That year, Bill Buford called him as much in his seminal book Heat, in which the author worked at Babbo.
Five years ago, a former server sued Langello for alleged sexual harassment. Then last year, an ex-Babbo pastry chef sued Batali, co-workers including Langello, and others in a discrimination lawsuit. More allegations came out against Langello in December, when Eater published an exposé about Batali's sexual harassment and the abusive work environment that former and current employees alleged he and Bastianich created. Both B&B and Langello declined to comment to Eater; a representative tells Grub, "I can only confirm that Frank Langello's employment ended on January 2nd."