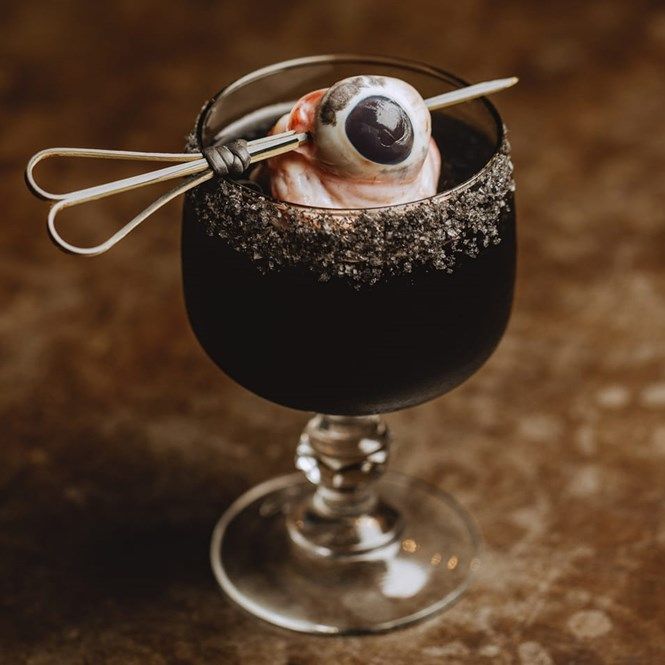 "Cheers! Here's looking at you."
Photo: Courtesy of MONA
In a world where people make cocktails scented like everything bagels and turn human tears into bitters, it can be difficult for a bartender to truly stand out. So you have to hand it to the staff at Faro Tapas, a month-old restaurant inside of Australia's Museum of Old and New Art — for the drink that you see above also may very well see you. It is a "black margarita" garnished with — what else? — the eyeball of a feral pig.
We can thank Gourmet Traveller restaurant critic Pat Nourse for alerting the world to this creation, as part of his full Faro review. Nourse calls the eatery more "work of art" than "arty restaurant in an art museum," describes the vibe there as "Stanley Kubrick," and says expect to be waited on by people wearing lab coats. The full experience — of which Faro's small plates and pig-eye tequila drink are just one element — requires signing a waiver in which you acknowledge that you must "lie on a bed, in an enclosed metal sphere, for about 15 minutes" where you'll experience flashing lights and potential "adverse health effects" not limited to epileptic seizures. ("Honey, what would you like to do for dinner? Try the new Chinese spot, or go sit in a metal sphere for 15 minutes?") The food, Nourse reports, is "Spanish for some reason."
Regarding the drink in question, the critic writes that the waitstaff advised him to slam it as fast as possible, "before the sphere of ice encasing the eye melts." Unfortunately, the rate at which smart people will imbibe it may be the most exciting part:
The drink with the eyeball in it is, sadly, as much of a let-down to the would-be Instagrammer as it is to the drinker. The blackness of the black Margarita is achieved with the addition of charcoal powder, and the glass is rimed with black salt. These seem to dampen down the flavours of tequila, mezcal and lime as effectively as they make it a nightmare to photograph.
Fortunately, it appears the bar staff will make a Negroni, too.