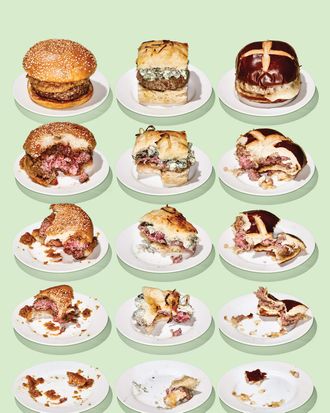 From left, Mu Ramen's the Harlan, Buvette's Petit Burger, and Tetsu's Beef Burger.
Photo: Bobby Doherty/New York Magazine
Yes, we know it's January and your fat-trimming resolutions have yet to melt away with the first snowfall. But there will come a time when you crave a burger. Here, five of the best new arrivals, distinguished either by compelling origin story or unique cooking method, and found where you might least expect them.
Mu Ramen's the Harlan
$19 including fries
This ramen(-shop) burger isn't sandwiched between two piles of fried noodles but rather served on a housemade Asian-style potato bun. Into that fluffy cradle goes eight ounces of short-rib meat mingled with dry-aged beef fat. Mu's Joshua Smookler cooks the patty over hardwood charcoal in an oddball oven imported from Croatia expressly for this purpose; tops it with Taleggio, potato sticks, and — like at one of its inspirations, Minetta Tavern — deeply caramelized onions; and won't serve it one degree past medium rare.
Buvette's Petit Burger
$17 including fries
It began, like some of the best things at restaurants often do, as a staff meal, then became a verbal special as Franco-American as its gastrothèque setting. Inspired by the Spotted Pig's Roquefort behemoth but about a third the size, this superb little flavor bomb is larded with the hand-chopped trimmings from steak-tartare prep, expertly griddled, crowned with blue cheese, and served on a perfectly pliant square of focaccia with a mountain of matchstick fries.
Tetsu's Beef Burger
$23 including fries
When superstar chefs cave under pressure and finally give their public what it wants (i.e., burgers), they tend to overdo it with loony-bin toppings and fancy fromage. Not so Masa Takayama, whose first foray into the world of Wimpie has brought us two surprisingly stripped-down takes (one lamb, one beef, both available only from 5 to 6 p.m., and soon for lunch). The beef burger in particular, with its seal of melted Cheddar and uncharacteristically squishy and cohesive pretzel bun, is a minimalist marvel. Notable technique, too: It's cooked in a medieval-looking contraption the chef designed, with internal spikes that pierce the meat but preserve the juices, that might be the greatest innovation in burger cookery since Louis' Lunch's vertical cast-iron patty broiler.
The Loyal's Piedmontese Burger, Comté, 22-Step Tomato
$26 including duck-fat tots
You can't describe a burger condiment on your menu as requiring 22 steps without arousing the curiosity of critics and provoking debate. Thus we have Pete Wells taking a pro 22-step-tomato stance in the Times ("The tomato … helps the burger so much that it becomes the whole point"), versus Shauna Lyon in The New Yorker who recommends removing the offending fruit like a bouncer ejecting a drunken hooligan from a bar. The truth lies somewhere in the middle: If you must sully a juicy puck of pedigree beef, you could do a lot worse than this soy-and-miso-marinated, slow-cooked tomato, which adds just the right measure of sweetness and acidity without compromising the burger's structural integrity or flavor balance.
Pheasant's Pressed Euro Burger
$19 including pommes frites
Just when you thought that the watchword in burger cookery these days was simplicity, along comes Pheasant's Euro Burger: house-ground beef-and-pork patty, melted provolone, sour pickles, special sauce, and two pungent planks of kielbasa from a nearby Polish butcher on a Bien Cuit bun, the whole shebang smooshed on a panini press. In other words, here is a hamburger that thinks it's a Cuban sandwich. Against the odds, it works. "Sounds terrifically wrong, tastes incredibly right" about sums it up.
*A version of this article appears in the January 22, 2018, issue of New York Magazine.