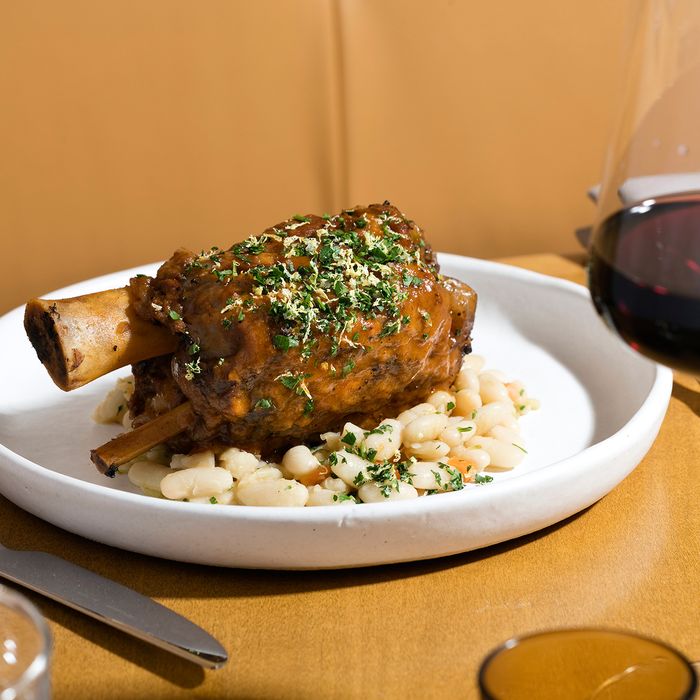 Fausto's braised pork shank is what you need to eat right now.
Photo: Melissa Hom
It is cold outside right now. As in, wear-three-layers-and-still-not-want-to-walk-to-the-bodega cold. Fun news: The East Coast is now braced for a storm that the Washington Post says resembles "a winter hurricane." In New York, that means snow today, a forecast high of 18 degrees on Friday and 15 on Saturday. (The wind chills, of course, will be much lower.) What is a New Yorker to do? Wear at least four layers, and eat a lot of braised meats, noodles, and other comforting food. Here, 15 dishes that will stave off the cold.
Chicken Damago Hotpot
Where: Bessou
How Much: $29
One of three Japanese-style hot-pot dishes available here, the chicken damago is a poultry-and-mochi-rice-ball stew with maitake mushrooms.
Coda Alla Vaccinara
Where: Camillo
How Much: $14
New Yorkers love Italian food for all sorts of reasons, chief among them: Our harsh winters, made worse by wind tunnels, are a little more tolerable when eating fresh ribbons of pasta, like pappardelle, with braised fatty meats like oxtail.
Pozole Verde
Where: Casa Pública
How Much: $17
Red, white, or green, the pork-and-hominy stew from Mexico is fortifying whether you're fighting the cold or an aggressive hangover. They go green at this Williamsburg restaurant, making theirs with beans, tangy tomatillo, pumpkin seeds, avocado, and radish.
Garganelli Giganti
Where: Don Angie
How Much: $25
This dish has everything you need right now: tube-shaped pasta, a ragù made of broken meatballs, cheese in the form of Pecorino, and pork fat via guanciale.
Chicken and Rice Porridge
Where: Empellón
Price: $33
Rice porridge and chicken soup: two of the most soothing dishes, combined here into one with green and red chiles.
Braised Pork Shank for Two
Where: Fausto
How Much: $44
There are few better ways to insulate yourself — and, ideally, someone special — than with a primal, hefty cut of braised meat like this braised pork shank for two with zesty gremolata and white beans.
Duck Confit Soba Soup
Where: Karasu
Price: $24
The bar behind a restaurant has is tucked away so you feel like the outside world is far away, and its duck confit soba soup with miso-cured egg and soy dashi will make you feel cozy.
La Nueva Yorkina
Where: La Loncheria
How Much: $13
The slowly roasted, crispy-skinned pork dish porchetta is great for winter on its own. But at this new Bushwick restaurant, you'll find it seasoned not with fennel but à la the Mexican dish cochinita pibil and stuffed between bread in a torta.
Roasted Sweet Corn Butter Soy Sauce Ramen
Where: The Noodle Bar at Brushstroke
How Much: $14
Miso ramen fortified with butter and corn is a bulwark against the cold in northern Japan, so do as they do in Hokkaido and order this bowl of roasted sweet corn and butter ramen with kombu dashi, hatcho-miso powder, and Korean chili thread.
Raclette Fondue
Where: Oka
How Much: $14
Yes, you can make your own fondue. But then you probably wouldn't have shiitake jam to go with it, much less this izakaya's great selection of sake and cocktails.
Ricotta Gnudi
Where: Otway
How Much: $23
The Brooklyn bistro is a good place to drink wine, so go get a bottle and battle the cold with a plate of ricotta gnudi, cauliflower, maitake mushrooms, and nutty brown butter.
Dizi
Where: Shuka
How Much: $29
An Iranian lamb stew, it's made here with braised lamb, roasted pumpkin, parsnip, pomegranate, and couscous.
Hotpot
Where: Tang Hotpot
How Much: $15 to $20 for broth, $35 to $65 for platters, $5 to $60 for individual items
It's New York, so you don't have a fireplace to warm up next to. But who needs to when you can sit in front of a cauldron of bubbling, aromatic broth for a couple of hours, dipping wagyu beef, tofu skin, and lobster while avoiding the cold?
Smoked Dashi Ramen
Where: Tonchin
How Much: $17
Skip the creamy tonkotsu and opt for the rarer in these parts smoked dashi ramen, made with a pork broth that's spruced up with a smoked fish oil, given a jolt of fragrant citrusy-ness with yuzu peel, and brininess via clams and tobiko.
Khao Soi Nuer
Where: Ugly Baby
How Much: $16
One surefire way to forget that it's cold enough to make your hands fall off is to nestle up to a bowl of spicy, invigorating curry soup, complete with beef shank and a nest of fried noodles.
Cousin's Beef Noodle Soup
Where: Zai Lai
How Much: $13
Heavily spiced and seasoned and made with slow-braised beef shank, rich, meaty Taiwanese beef noodle soup is as good an antidote to this weather as you'll find.