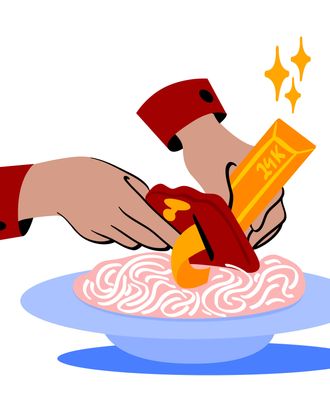 Like insanely expensive restaurants.
Photo: Sandy van Helden
Now that we've established the essential agenda for eating (and drinking) in New York in 2018, let's take a look at the restaurant gimmicks we hope to leave in 2017. 
Clickbait dishes.
Yes, they're part of the jangled, intrusive, interconnected world we all live in, and yes, some of them are works of genius. Most of them, however, are not.
The ubiquitous MP ("market price") menu designation.
What used to be cause for a little frisson of excitement has become the discreetly polite restaurant code for "Money Pit."
Really, really, really expensive restaurants.
The cost of doing business is out of control, it's true, but the increasingly conspicuously high barriers to entry, especially in Manhattan, are turning "fine dining" in this great dining city into a millionaire tourist's game.
Domineering-male-dominated kitchens.
As many have pointed out, this tradition is as old as the history of restaurants. Here's a little New Year's wish that, at long last, we're beginning to see the end of it.
Parker house rolls.
This popular, inarguably delicious, and by now overexposed predinner comfort treat threatens to become the Cronut of the faux-retro era.
"Do it yourself" gourmet ice-cream-sundae desserts.
I'll take my annual ice-cream sundae out of doors, in the summertime, with one or two toppings, instead of 25 of them, tastefully arranged by fussy waitstaff in little china bowls.
Gourmet breakfast sandwiches.
I'm as guilty of the hype as the next breakfast-sandwich lover, but as wacky ingredients (and prices) keep piling up, this diner icon threatens to become the new chef burger.
Everything on toast.
I'm a sucker for this popular trend, too, but my former nutritionist isn't a big fan, and besides, how much uni and avocado can one man eat?
Avocados.
I propose a six-month moratorium on all discussion relating to this tired topic, including the skyrocketing price, the grimly large carbon footprint, and how citizen police are guarding the precious trees in Mexico. Also, see above.
Elaborate, overpriced crudités.
Vegetables have earned their place in the gourmet pantheon, but the pricey fine-dining displays of roughage presented over ice, or spiked on sticks, or in great china pots, are a little over-the-top.
Vegan madness.
The V-word seems to have superseded "veggie" in the food-buzzword firmament, which is all fine and admirable, unless it's your professional duty to sample the stuff.
Fashionable earthen tableware.
A relic of the recently ended Scandi craze, this phenomenon prompted one of my recent dining guests to cry, "Who do they think we are? Peasants from the Swedish countryside?!"
The "tomahawk" chop.
This oft-Instagrammed cut of beef has gone from being a trendy item in local steakhouses to something of caveman cliché. Beware the dreaded "MP" next to it on the menu, since the bone itself weighs several pounds.
*A version of this article appears in the January 8, 2018, issue of New York Magazine.