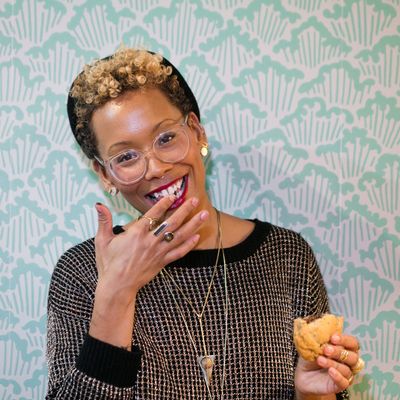 At Culture Espresso in Manhattan, "for one of their
amazing
chocolate-chip cookies."
Photo: Melissa Hom
Jenna Wortham is one of the country's most insightful and engaging writers. She's written for every publication from Wired to the Awl to Vogue to The New York Times Magazine, where she's a staff writer and co-host of the podcast Still Processing with Wesley Morris. While Wortham often covers technology and culture (or, per the podcast, "how humans relate to technology"), her work is rangy, and she's also written about topics like self-care for Bon Appétit's Healthyish and Beyoncé's "Formation" for the Times. But she's always someone you can't help listening to, and who will make you smarter for it. A very active home cook who, as she says, "doesn't like to be hungry," Wortham found herself on a last-minute assignment in Los Angeles last week, where she reconfirmed her love of Korean snacks and dislike of chopped salads.
Thursday, December 7
It was an unusual week because I got sent on assignment to Los Angeles. I don't normally eat out this much: I've recently discovered a lot of food sensitivities and a connection between my diet and mood, skin quality, and general health. So I usually keep to a very strict diet and make a lot of my food at home. But, in a way, it was the best week ever because L.A. has all of my favorite food things and the people are so insane about health food. It's kind of my food id, the one place where I can be a total food gremlin that I just would never be in New York. New York is not a city that prioritizes that kind of indulgence. But L.A.? I'm like, yes, if someone walks up to me with a scoop of clay, I'll eat it. And it makes me so happy.
Anyway, I woke up and immediately took an Emergen-C. The air quality was bad because of the fires and it inflamed my lungs. I went to the lobby of the Line hotel, where I stayed, and paid $15 for fresh ginger juice, charcoal water, and a cold brew. I ate some spoonfuls of leftover kimchee that I'd been keeping in my room's fridge, then went to this Echo Park coffee shop Eightfold. I worked there all morning on a piece while I waited to hear about interviews with my source. I had a lime Topo Chico, too. It was very good!
I also snacked on some things I got from Zion Market in K-town; it was the first place I went to when I got to L.A. The Line is a really cute hotel, but I stay there specifically so I can walk to Zion. I bought, like, $60 worth of stuff, things for friends, and was really proud of it. Puffed corn, ginseng candies, beautiful tangerines, and green-tea Kit Kats. I also got chrysanthemum tea, barley tea, and one other I'm forgetting.
After a few hours at Eightfold, I walked to Guisados for lunch. I really like it because they list all of the possible allergens on the wall. It's also an amazing little taco shop. I had a chicken, shrimp, and fish taco. I ate it in the sun and read Elle. Zoë Kravitz was on the cover. I'm obsessed with her.
I wanted to go to a screening my friend Viv[ian Crockett] was curating at MOCA that night, but it was sold out! Excited for her, sad for me. So I looked up restaurants nearby, and a list came up of restaurants on Insecure. I was like, "Oh, am I near any?" This place, Mas y Malo, was on a really good episode, so it felt significant. I talked to the bartender a lot about how the restaurant was on Insecure, and he didn't seem that impressed. He also kept trying to make me really girlie drinks! I just wanted a tequila and soda, and he was like, "Let me put some strawberries in it." No. And when I ordered food, he kept trying to give me the girliest dishes, and I had to say, "No, I want an entire serving of guacamole for myself." He was like, "Really? So then no chips?" Yes, chips. Also, I had another chicken taco, and then I fell asleep on Eastern Standard Time. So decadent.
Friday, December 8
Woke up, had mint tea with honey, and walked to yoga. I fell asleep on EST and my stomach is also on EST, so I'm starving. After yoga, I got spicy tofu-kimchee soup from BCD Tofu House at 10 a.m. It was great, and the best thing was that no one batted an eye when I was like, "I need an extra large at 10 a.m." I loved it; I was so happy.
I worked by the pool for a few hours and then got eyelashes put on in West Hollywood. I had a photo shoot for season three of the podcast coming up, and I wanted to look cute. I had been trying to maintain a level of health, even though I was on the road, which can be really tough for a journalist because you never really know what's going to get thrown at you.
The appointment took an hour, so I listened to an audiobook. When we were done, I was starving again, so I walked to Erewhon. It is an equally horrible and amazing place. It's full of $20 bone broths, vegan things, and powdered colostrum that you can put in smoothies like protein powder. My throat was still bothering me, so I got a tumeric-ginger-reishi latte. I also stocked up on bison-meat bars and collagen "beauty" bars, trail mix, and a few Orgaid face masks.
Oh, and I bought a salmon-collard wrap that I ate before checking out. It's my favorite thing there. I love collard greens, and I don't think people use them enough. Especially on the East Coast, we only really use them in southern food. Which I love, because I'm from the South. I don't know, it just makes me happy to have this food from the South in a very different preparation.
When I got back to the Line, they were putting out fresh baked things, so I bought a Fruity Pebbles–Rice Krispies Treat. I just couldn't resist because they have the best desserts out there. Later, I had dinner with a friend who runs a vintage reseller, Golden Threads, at Blossom. Giant bowl of pho with extra lime because I was still feeling sick. Then some people saw that I was in L.A. via an Instagram Story, and talked me into going to a bar. I had a Paloma and got sleepy, so I went back and pillaged the basket of overpriced snacks in my hotel room. I had a giant Kit Kat for $5. Totally worth it.
Saturday, December 9
I went to a gay coffee shop called Cuties for an iced coffee. Every time I'm in L.A., I go there. I love that little strip in that neighborhood. I have a lot of friends who live over there, and I'll meet them there or visit on my way. After that, I went to see a friend's baby. We talked about all the meats he resembles. They call him meaty names so much, I don't even know his birth name! Little Meaty, Chuck Roll — they Instagram it a lot.
For lunch, I went to Kismet with a friend. L.A. is so funny about food. It was recommended to me, like, four times. I know there are some New York chefs, or it has some connection to the East Coast and people like it. I had arugula and poached chicken; I thought it was totally fine. My favorite restaurant in New York is Dimes. I feel like maybe it's the equivalent to that? Or trying to be? It was very reliable and felt tasty, but I was also still hungry afterward. I like to eat well, but I really don't like to be hungry. So it was a really great place for a first lunch.
I lay by the pool at the Line and was craving French fries. The craving was so specific and intense that it prompted me to check my period-tracking app. Aah, found out the bleeding was set to start in four days. I love feeding my period. She gets whatever she wants, no questions asked. I just don't fight it. That really explained why I had started craving specific sweets, and I was like, "It's cool, you can have what you want." It's like another person in the room. So I asked for a turkey club with the fries and a side of avocado. Hell, yeah. I ate the whole thing in bed while rewatching season two of The Magicians. It was glorious.
Then I checked my phone. The subject of my article wanted to meet for drinks at the Sunset Tower. It's so fancy! I was still full from my afternoon snack, but they ordered a chicken potpie and it smelled so good. I really liked watching them eat it; I felt like I was eating with my eyes. We wrapped up, and I took a Lyft to my friend Morgan Parker's holiday party. There was a giant plate of sheep's-milk cheese there, which is the best thing ever because I can't really fuck with dairy anymore.
My friend's parents were there and they ordered a pizza around 11 p.m. Maybe Pizza Hut? I was on my way out when it arrived, and her mom put a slice on a festive napkin for me. I protested for 30 seconds, then just took it. I was trying to be like, "These are all the foods I can't eat," but then my body was like, "Yes," so I took it. It was actually a very small slice, and I felt like, "I'll pay for this tomorrow, but it'll be worth it for this moment." And it really was; I felt very loved.
I was having a little FOMO because of the snow, but then there was this moment with all the lights, all the trees, and I lived in Cali for a long time, so it also felt like home: The weather was warm, I was in a car with a piece of pizza and a little to-go cup of wine, and Mariah Carey's Christmas album was playing. It was beautiful. I don't know if I've ever been happier.
Sunday, December 10
The next morning, I had Moroccan mint tea and double honey at the pool. My throat was so inflamed, I could hardly breathe. It was awful. The news kept saying the air quality was bad everywhere but L.A., and I didn't know how that would've been possible. Still, I went to a TRX class in Koreatown. I thought about that photo shoot for the podcast again, and I ate an Epic bison bar and half a Kalumi Marine Collagen bar. Why not? I don't know if it works; I don't think it does, but if it does, I'll take it. There has to be a term for that. Skeptical but willing. Doubtful but down.
I observed a shoot for an assignment on a set in Hollywood. When the crew broke for lunch, I went to Sweetgreen. At first I was excited. I never go, and the menu is so cute and pedigreed. I got a Brussels-sprout salad with chicken, and sweet potatoes and a miso dressing, and devoured the whole thing. Thirty minutes later, I remembered why I never go to Sweetgreen. I don't like chopped salads; it's not my type of food. It isn't enough food and it's very expensive. It's a $13 salad! Ugh. I snuck out into the parking lot and wandered until I found the craft-services table. Pocketed two packs of cashews and a mini-pack of Haribo gummies. I took some ginger candies, too, and Postmates-ed some coffees.
After they wrapped, I went to Little Tokyo to meet my photographer friend Texas Isaiah for dinner. I got there early, so I went and bought a single red-bean mochi, which was great. I just wanted one. Then we went to Tenno Sushi. My favorite there is Sushi Gen, but it's almost impossible to get in during normal eating hours. We ended up having a really great meal — miso soup, a salmon-avocado roll, two pieces of salmon sushi — and I ate half of his chicken-and-rice bowl, so that was great. I'm a very hungry person, anyone in my life will tell you that. I like to eat a lot.
Monday, December 11
I flew back to New York, so I looked for the least offensive food in terminal six in LAX. I flew Virgin, which was swish, but that terminal sucks. I travel so much for work that I plan my flights around terminals and what they have food-wise. This was so last-minute that I didn't get to choose, but I would've picked terminal five. Oh, well.
It's why I bought all of those protein bars and took extra nuts! I bought a seltzer and walked around, and settled on a turkey sandwich and Diet Pepsi. I don't remember the name of the place, but it was definitely super delicious — I was shocked. I was like, This is kind of bomb for airport food. I only ate half the bread: I'm like, I don't eat dairy or wheat, but this whole thing is about dairy and wheat. Oh, and I watched Practial Magic and read The Great Cosmic Mother.
After I landed, I carpooled with a friend and they got out near a Whole Foods, so I jumped out, too, and did a mad dash to buy a few things. I bought a pound of line-caught sockeye salmon, organic sweet-potato zoodles, some organic dark greens, and organic cherry tomatoes.
As soon as I walked into my home, I threw on Janet Jackson on Spotify and got to work. Mashed up some cumin, peppercorns, and sea salt in the mortar and pestle and dumped it on the salmon, which went into the cast iron with some fresh lemon. Wrapped up the tomatoes in a foil packet with a little olive oil and sea salt, tossed it in, too. Then I chopped up the greens, and added a splash of apple-cider vinegar with organic miso. I really like really savory things when it's cold out. I also checked on my fire cider, which I made before I left for L.A. — I use this Wellness Mama recipe.
I ground up some coffee to make with my Moka pot the next morning. I just got really tired of paying for $5 coffee; I was annoyed at myself. I'm not a fancy-coffee person. I use Dunkin' Donuts ground coffee, which I think is the bomb, and I usually mix it with that fancy Stumptown stuff. But I was in Santa Fe for a residency the other week, and I bought a bunch of the local piñon beans, so I mixed all three together. Then I added cinnamon and cayenne to the actual grounds. It's enough for two big cups, which I usually pour into two separate jars. The next morning I'll add cashew milk, which makes it so nutty and savory, and either honey or molasses. One is hot to go; one is cold for the following day. It will change your life, I'm telling you.
I took a coffee mug, added organic steel-cut oats, covered them with cashew milk, and added a spoonful of almond butter and sliced almonds — that's breakfast for tomorrow. When the salmon was done, I made one plate for dinner and packed another for lunch the next day. The other thing I made was herbal iced teas, so I mixed barley and chrysanthemum teas with a little organic honey and put them in the fridge for the morning.
I ate and watched Riverdale, which is currently my favorite show. I don't know why I love it so much. It feels like a cross between Pretty Little Liars and Runaways on Hulu, which is a little too campy for me, and also like Gossip Girl. There's sex and murder, and all of the actors are really attractive. Working in news media, I'm more deeply aware of how stressful it is to be reading the news all of the time. It's also why I cook. When I get home, a big part of my night routine is cooking and decompressing. I try to have a little space around that makes me pause more.
Tuesday, December 12
Woke up and started the Moka pot while showering and listening to Rihanna. When it's done, I put half in a jar for today and the other half in a jar for tomorrow. Both get a splash of almond milk and molasses. Had a few bites of the overnight oats with almond butter and honey before running to the train, so I would make our weekly ideas meeting. I drank the coffee on the train. Yes, I am that person drinking coffee out of a jelly jar that you hate during your morning commute.
I was starving when I got there, so I ate half of my lunch while I answered emails. It was my good reporter friend Natalie's birthday, so I treated us to ramen at Tabata, which is one of the few decent places for a quick meal near the New York Times building. I didn't eat my noodles. Then I had coffee at La Colombe with Choire Sicha, head of Styles, to gossip and talk about possible collaborations for 2018.
Afterward, I went to Culture Espresso for one of their amazing chocolate-chip cookies. I picked up two. One for my still-approaching period and one for my sweet little boo, who made me a mixtape while I was away and surprised me with flowers when I got home from L.A. It was sweet of her. It's her favorite, and they make a fresh batch after lunch, so I like to go around 3 or 4 p.m. when they're still warm.
After work, I had to get a manicure and did some beauty things for the upcoming shoot. I was starving afterward, so I dropped by Pattie Hut on Nostrand for their jerk-chicken dinner. I got plantains and steamed cabbage, extra oxtail gravy on the rice. A small is only $6! It's the best go-to dinner option all around. We ate and watched this new queer web series 195 Lewis. When I do eat out in Brooklyn, I try to stick to black- or women-of-color-owned businesses — places like Grandchamps, Peaches, Brown Butter Cafe, and Butch & Coco.