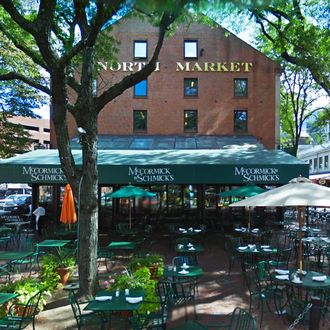 The Faneuil Hall location where the women work.
Photo: Google
A group of five Boston McCormick & Schmick's employees have filed a sexual-harassment lawsuit against the seafood chain, equating working alongside the men in their restaurant's kitchen to "being treated like a prostitute." Their complaint, written by the legal groups Fair Work and the Lawyers' Committee for Civil Rights and Economic Justice, alleges that lewd comments and even overt groping have become routine on-the-job occurrences for these women, and traces the misconduct all the way up to the Faneuil Hall location's executive chef. The suit doesn't allege mistreatment at any of the chain's other locations, but it's still momentous because it's among the first filed by minority low-wage earners in back-of-house jobs — the women are described as being Hispanic "dishwashers, cleaners, and prep cooks."
The Boston Globe took a look at the lawsuit's charges, and reports that they're "explicit" and "wide-ranging." The women allege that co-workers did everything from trapping and groping them in the walk-ins, to pinning their bodies against tables and rubbing against them, to (in the case of the executive chef) saying things like "This is your food" while grabbing their crotches. The women call it humiliating, and one says it's been so bad that "[w]hen I get home, all I can do is think about what has happened. I cry a lot. I cannot sleep at night."
In a statement, their attorneys write, "No one should live or work with these recurring indignities and assaults" — no doubt partly a reference to the fact that most of the restaurant-industry harassment claims so far are by servers and line cooks, yet abuse is statistically more common among minimum-wage earners who are less likely to speak out. Retaliatory firing could land them on the street. Or if they're undocumented, there's fear that a report could get them deported — assuming that they know the procedures for reporting harassment in the first place.
The Globe adds that the lawsuit came after the EEOC found "reasonable cause" to believe McCormick also discriminated against the women based on their gender. Landry's, the billion-dollar hospitality group that owns the chain, hasn't responded so far to requests for comment.