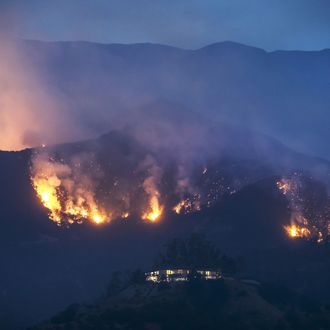 Time for even more avocados from Mexico.
Photo: Marcus Yam/LA Times via Getty Images
California grows practically all of the fresh produce Americans love to eat, so the six major blazes still raging between L.A. and San Diego are cause for great concern. Unfortunately, avocados and lemons are the casualties this time.
The region that includes Santa Barbara and Ventura counties is America's top producer of both those fruits. It's also been annihilated by fire. For better or worse, farmers have only just now started calculating damages, but a new Times report from the area makes it pretty clear that they won't be negligible: Owners of a 200-acre avocado farm that supplies a good number of restaurants and supermarket chains tell the paper that they lost "about 80 percent" of their crop. The fires' damages to the $45 billion California agriculture industry could be devastating.
Both avocados and lemons are especially ill-equipped to survive wildfires. Thick piles of dead leaves accumulate in avocado orchards, lining the rows with good kindling. Lemon grove trees don't shed leaves, but the lemons do fall off of branches easily, and they got blasted by the same 70-mile-per-hour Santa Ana winds that are spreading the flames. Lemons that drop can't be sold, and neither can hanging ones that develop humongous bruises. The head of the Ventura County Farm Bureau says it could take weeks to suss things out completely, but right now, it's obvious that "there's a lot of fruit on the ground."
The perhaps sole consolation prize is that shoppers shouldn't see shortages or price spikes for either fruit, experts tell the Times. Most avocados sold in America's grocery stores are from Mexico, so that's a relatively easy gap to fill. And even though Ventura County produces over 40 percent of the country's lemons, crop losses can also be made up by increasing imports. The fate of your favorite SoCal Cab, on the other hand, might be a different story unless you're a fan of red wines with a hint of "ashtray."