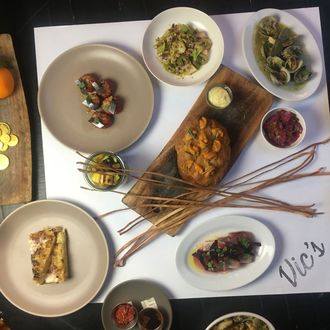 Vic's is one restaurant partaking in the tradition.
Photo: Courtesy of Vic's
Christmas is approaching, which, if you are Italian-American, might mean one very important thing: It's time to eat a lot of fish. The Christmas Eve tradition of the Feast of the Seven Fishes is a seafood-packed dinner of dishes like salt cod, fried calamari, and many other dishes. The best news is that many restaurants adopt the tradition and put out exciting, sometimes extravagant fishy feasts of their own. This is what you want. Here, 15 places serving noteworthy versions of the holiday tradition. Except where otherwise noted, these are all happening on December 24 — so make your reservations accordingly.
Ai Fiori
How Much: $175 for seven courses
Michael White's midtown spot is going all-in on a luxury version of the Feast: Expect dishes like lobster bisque with white truffles and tarragon; blue-prawn crudo with oyster crema; and salt cod with fennel, garlic, and rice.
Bessou
How Much: $60
Tired of the same old scampi? Bessou will serve a Japanese riff on the meal, with king-crab-leg hot pot; a bamboo purse with rice balls filled with uni shiso, smoked daikon, and Camembert cheese; and more.
Barano
How Much: $65 for a five-course prix fixe, or à la carte
Inspired by the Feasts he had with his grandparents, chef Al Di Meglio will serve oyster pastelle, charred jumbo prawns with squid ink aïoli, a pasta tasting with salt-cod ravioli, roasted lobster oreganata, and desserts like lemon semifreddo.
Faro
How Much: $95, $145 for wine pairing
Over in Bushwick, eat a prix fixe meal with options like carrot with ají dulce and uni, warm crab with apple and cardamom broth, octopus with squid ink frascatelli, and a triple-chocolate tart for dessert.
Faun
How Much: $72 for a three-course prix fixe, $30 for wine pairing
Head to Prospect Heights for fresh sardines on toast, spaghetti with olive oil–poached tuna, and a main course of black bass or tiger shrimp.
Gato
How Much: $105 for four courses
Bobby Flay's restaurant will serve roasted octopus with sour orange and bacon, a seafood paella with safforn rice, and more.
Gloria
How Much: $85 for seven courses
Of course you'll be able to Feast at this pescatarian spot, where they're serving octopus mole, striped bass aguachile, skate wing with nopales, and more.
Greenpoint Fish & Lobster
How Much: $65 for four courses, $35 for wine pairing
New York's best place to buy fish is also a fun neighborhood restaurant, and their menu features oyster shooters, chilled seafood salad, and homemade pasta frutti di mare.
Greenwich Grille
How Much: $75
Harold Moore's new spot will go full-American for its dinner, serving spicy scungilli salad, clams oreganata, crab cakes, lobster fra diavolo, and more.
Il Buco Alimentari
How Much: $95 for a prix fixe, $45 for kids
Chow down on fritto misto, Maine rock-shrimp risotto, ruby-snapper acqua pazza, and more at the downtown Italian spot.
Leuca
How Much: $90 for four courses
Have a family-style meal (menu here) at the hotel restaurant, where you'll eat tuna crudo, smoked-eel croquette, zuppa di pesce, and more.
Mamma Guidara's
How Much: $85 for a prix fixe
Say good-bye to Daniel Humm and Will Guidara's red-sauce pop-up, which will go out with a bang on Christmas Eve. You'll eat baked clams, shrimp scampi, linguine Vongole, seafood salad, and other classic Italian-American dishes.
Momofuku Nishi
How Much: $100 for an eight-course tasting menu
Dave Chang's now-Italian restaurant will serve both its regular à la carte menu and a pasta-centric tasting menu, with bucatini with peekytoe crab and soy, farfalle with shrimp and black bean, lobster ravioli fra diavolo, and more.
Popina
How Much: $60 for six courses, $35 for wine pairing
The Brooklyn restaurant will have its meal on December 23, when it'll serve smoked trout with saltines, shrimp roll, whole-roasted porgy, and more.
Roman's
How Much: $105 for four courses, tip included
On December 23 and 24 in Fort Greene, eat fritto misto with castelvetrano aïoli, cappelletti in seafood broth, black bass with saffron, and a dessert of almond granita or citrus and campari sorbetto.
The Red Cat
How Much: $18 per dish, à la carte
Spaghetti with Manila clams, madai snapper with trout roe, and cioppino with saffron rouille are all on the menu at the Chelsea neighborhood spot.
Seamore's
How Much: $65, or à la carte for seven courses
This one's happening early, in case you'd like to have fish feasts: On December 18, Seamore's will team up with Nom Wah for a Chinese spin on the traditional meal. Expect shrimp dumplings, General Tso's squid, fish fry with pickled ginger, and more.
The Standard Grill
How Much: $95
The Meatpacking District's hotel restaurant will serve crispy oysters with beef carpaccio and truffle, bay scallop ceviche with blood orange, Alaskan king crab, and more.
Vic's
How Much: $85 for five courses, all but main served family-style
Head to Noho for a menu of Venetian-influenced dishes, including stuffed peppers with crab, scallops gratinato with brown butter, risotto with littleneck clams, poached cod, and tiramisu and biscotti for dessert.