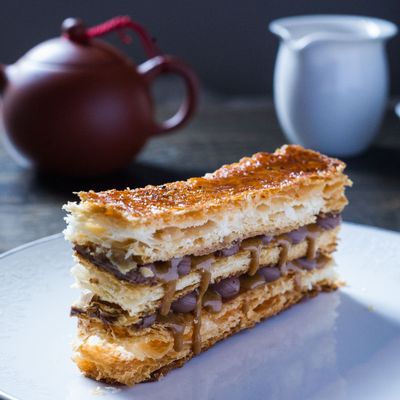 Té Company's chocolate-walnut mille-feuille.
Photo: Jed Egan
Every month in New York, there's a bewildering number of new dishes to eat, drinks to imbibe, and food-themed events to attend. Often, the hardest part is just figuring out what's really worth your limited time. So Grub kicks off each month with a curated collection of dishes, drinks, and events that should absolutely be on your agenda. Make your plans now.
1. Eat Té Company's chocolate-walnut mille-feuille.
Té Company is a tiny tea shop that does a lot with food. Chef Frederico Ribeiro serves dishes that the Underground Gourmet called "stunning," and he's got a way with sugar: Grub Street editor Sierra Tishgart named his steamed chocolate cake as her favorite dish of 2016. His menu changes with the seasons, and for a couple more weeks, he'll be serving a very good mille-feuille ($9). The top layers of the pastry are caramelized, so it's bubbly and crispy like chicharrón, and it comes with globes of not-too-sweet Valrhona chocolate (melted with eggs and milk) and toasted walnut praline that oozes out the edges. It's a good dessert to celebrate some holiday shopping with.
2. Check out a former Wildair sous-chef's pop-up.
The Colombian-born chef and photographer Giuseppe Lacorazza has worked as a sous-chef at Wildair, one of the best new restaurants in New York from the last few years, and more recently as a one-man kitchen at London's P. Franco. For two more weekends (those of December 2 and December 9), Lacorazza will put on pop-up dinners ($50, seatings at 8:30 p.m. and 10 p.m.) at O Cafe. Called Soft Opening, the pop-up's menu changes weekly, but it has included dishes like braised beef rib in molasses with mustard greens, sesame seeds, and preserved lemon.
3. Try the spicy chicken at the new restaurant from the owner of Málà Project.
The Málà Project was one of 2016's most popular new Chinese restaurants, landing in Adam Platt's Where to Eat 2017 (in a section titled "The Great Chinese Renaissance," no less). That restaurant specialized in Sichuan's trendy dry pot, a brothless hot-pot variant, but owner Amelie Kang's sophomore business is something totally different. At Tomorrow, which opened in the Financial District, the focus is on Chinese home-cooking classics (one for $4, three for $10) like tomato and egg, fish fillet with ginger and scallion, mapo tofu, and cold noodles with pickle and cucumber. There's an emphasis on takeout, and customers will soon be able to order via text.
4. Listen to Grub Street food editor Alan Sytsma and Wylie Dufresne chat about the influential chef's cookbook.
Still miss wd~50's iconic eggs Benedict? Then you'll want to head to the 92nd Street Y on December 6 ($35, tickets here), when Dufresne will discuss his cookbook wd~50: the Cookbook with Grub's own Alan Sytsma. It's an impressive book with beautiful photography, and the two will discuss his often weird creations, stories from the restaurant, and more.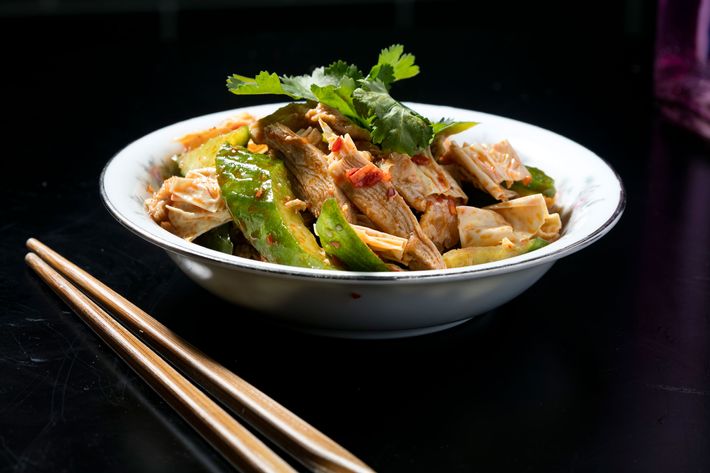 5. Get Underwest's Hanukkah and Christmas doughnuts for the holidays.
New York's reigning king of doughnuts, Underwest, has some specials for the holidays. Underwest will serve two new doughnuts this month, starting on December 4 with a Christmas special ($3.50) of a chocolate-peppermint cake doughnut with peppermint glaze and peppermint patties. From December 8 on, it'll also serve a Hanukkah doughnut ($3.75) that's, of course, inspired by the stuffed jelly doughnuts called sufganiyah. It's not at all traditional, but jelly-infused cake doughnut is topped with powdered sugar and Star of David–shaped pâté de fruit. The shop will also sell its dark-chocolate doughnuts ($3.50) with Star of David sprinkles, its Carwash doughnut ($3.50) striped in blue, and its dark-chocolate doughnut topped with holly-and-berries sprinkles.
6. Warm up with a few new cocktails around town.
Bar Goto is one of New York's best bars for fancy cocktails, and owner Kenta Goto's regular but not restless tinkering with the menu means it never gets boring. Take a recent addition: the refreshing Nippon Spritz ($14), which mixes rice shochu, sake, and pickled ginger shoot into a soda water and tonic highball. Speaking of drinks, Tribeca's Ward III just reopened after a long hiatus with an all-new cocktail menu featuring drinks like the winter-appropriate Road to Riches ($16; cognac, rum, Giffard Pineapple, Amontillado sherry, dry curaçao). The 2nd Floor at 2nd Ave Deli, located above and operated by the owners of one of New York's most famous delis, has also opened. It's menu, of course, is seasoned with Jewish ingredients, as in the Upper Eastsider ($14; gin or vodka, house ginger, cucumber, mint, and Cel-Ray) and pastrami deviled eggs ($8).
7. Take a pastry class, with one of the city's best young pastry chefs, for a good cause.
Earlier this year, Flora Bar and Café Altro Paradiso pastry chef Natasha Pickowicz put on a bake sale to benefit Planned Parenthood. This month, she'll put on two baking workshops ($200 each) benefiting Lenox Hill Neighborhood House. First up is Holiday Tart Baking from 2 p.m. to 5 p.m. on December 4, when you'll learn how to make a proper tart, drink wine, and eat snacks. Then from 2 p.m. to 5 p.m. on December 11, Pickowicz will teach you how to decorate cookies with natural dyes like hibiscus and help you learn icing techniques. There will, of course, be wine and snacks. To sign up, email info@floranyc.com or call 646-558-5383.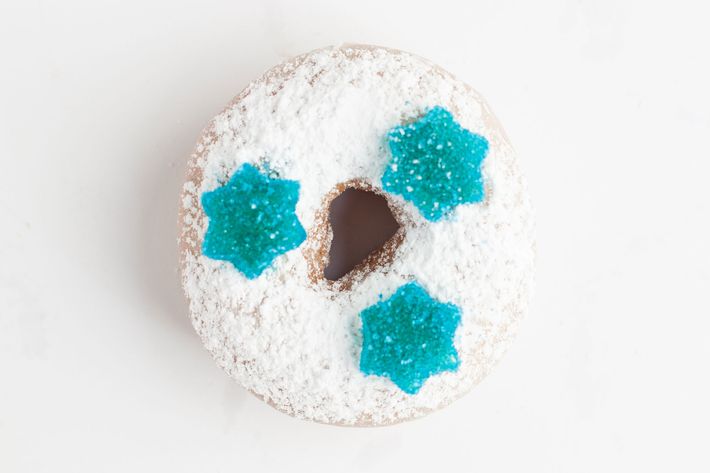 8. Work on your winter coat with brunch at the Loyal.
John Fraser's new tavern, the Loyal, is meant to be an everyday neighborhood brasserie, so it's no surprise that he's making moves on brunch. Starting December 9 (prices not set yet), expect morning standards like an egg sandwich with homemade chicken sausage ($14), and lobster Benedict ($18) with a toasted English muffin. Nothing newfangled, but maybe what you need after three gin-and-tonics too many. Speaking of too many gin and tonics: Next week, the restaurant the restaurant will also start serving a late-night (after 10:30) fried chicken sandwich ($22) with dill pickle mayo on a Hawaiian bun for two.
9. Cook your way through a cookbook this month for a January potluck.
Archestratus Books & Foods is a little café that also doubles as a cookbook-centric bookstore. This month, they're inviting people to cook through Kaukasis: A Cookbook (available for 20 percent off at the store), and then make their favorite recipe for a potluck party on January 16. The book contains over 100 recipes from Georgia, Iran, Turkey, and other countries around the Caucasus. It sounds like a way to actually go through with a cooking project for once.
10. Head to Huertas for raclette-and-smoked-pork bocadillos.
The Basque-ish restaurant Huertas has been doing events it calls "Pintxo Takeovers" for the last two years, inviting chefs like El Atoradero's Denisse Lina Chavez into its kitchen. For its next event on December 4, Huertas chef Jonah Miller has taken a different direction. This time, he'll collaborate with Heritage Foods' Patrick Martin and Saxelby Cheese's Anne Saxelby. Expect "goats in a blanket," fried cheese curds with Manzanilla olives, and raclette-and-smoked-pork bocadillos. All specials are $4.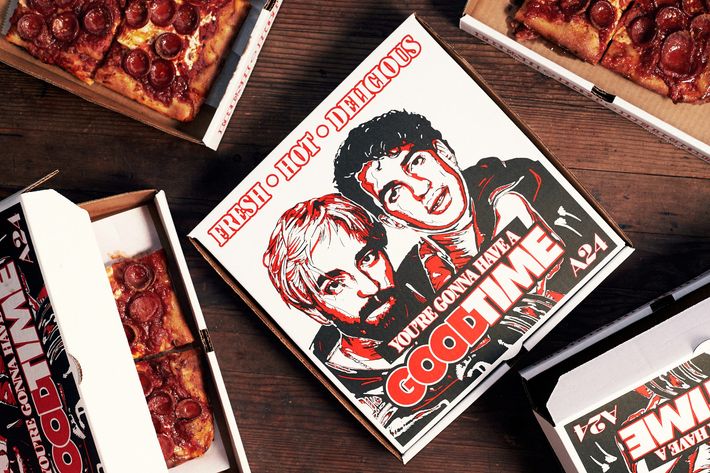 11. Get a Robert Pattinson pizza box, because why not?
The indie-film distributor A24 is just five years old, but it's already made a big mark with a slew of influential films (Moonlight, Room, The Witch, and so on). One of its latest is Good Time, a New York heist-gone-wrong movie starring Robert Pattinson. Being a proper New York movie, there's a scene shot in a pizzeria. To celebrate the film's release, the studio has created pizza boxes emblazoned with a print of Pattinson's bleach-blond Connie and his brother Nick (played by co-director Ben Safdie). You likely don't normally go around collecting pizza boxes, but if you're a movie nerd, you might make an exception. Find them at Prince Street Pizza, Vinnie's in Williamsburg, Scarr's Pizza, and Two Boots locations in the East Village, Hell's Kitchen, Upper West Side, and West Village.
12. Eat a ton of latkes at an annual potato-pancake party.
Attention latke loons: On December 18 from 6 to 8:30 p.m. (tickets are $70, drinks and unlimited latkes included, or $120 for a VIP lounge access), the Brooklyn Museum will host Great Performances' ninth annual Latke Festival. Participants — including Baz Bagel, Kulushkat, Shelsky's of Brooklyn, R&D Foods, and Veselka — will offer more than 20 latke dishes (like a deeply rooted latke with beets, onions, carrots, and horseradish). There will be awards given from a panel of judges as well as the crowd, beverages from Tito's and others, and the festival will benefit the nonprofit Sylvia Center. Everybody needs more potato pancakes in their lives, no?
13. Have a Chinese Christmas dinner at Quality Eats.
To celebrate Jewish Christmas, Quality Eats' Craig Koketsu has reimagined menu staples as Chinese dishes for a family-style meal ($48, menu here). Think patty-melt spring rolls, cold peanut-butter noodles with Nueske's bacon and jalapeño, and lemon (Szechuan) pepper chicken. Cocktails will take a similar bent, with 5 Spice Old Fashioneds and tiki classics like a Flaming Scorpion Bowl, and you can get festive with a fortune cookie and matcha-cream sundae.