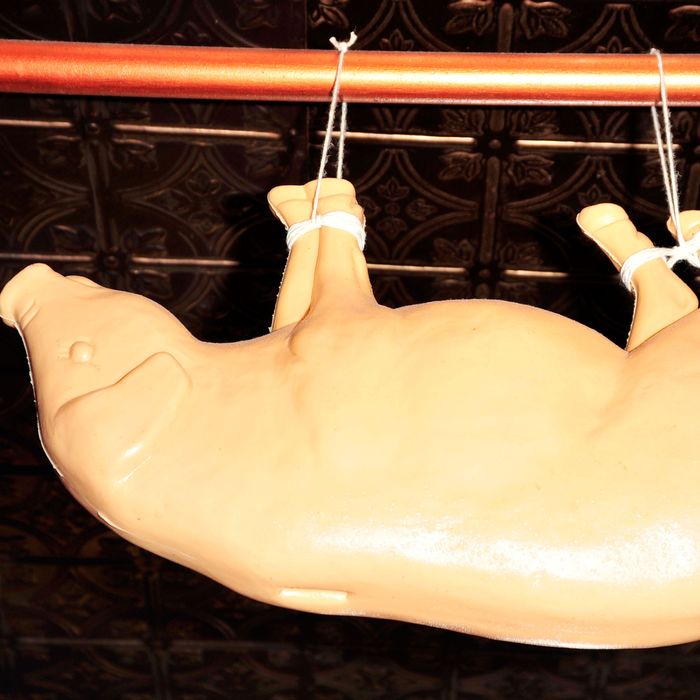 It's hard to figure out how, as a customer, to respond.
Photo: Chance Yeh/Patrick McMullan via Getty Image
This past Wednesday night at the Spotted Pig — roughly 36 hours after the Times first published a ghastly investigative report on co-owner Ken Friedman's sexual transgressions — looked like any other weeknight at the restaurant. The hostess quoted a 45-minute wait for a two-top. A waitress snapped a family's photo. A couple sat in a booth with their infant children and ordered burgers.
A young man approached a group of male friends at the bar on the second floor. "I didn't realize it's your first time coming here," one said. "Is this the room?" he asked. The man's friend pointed upstairs. They laughed.
They were referring to the third-floor event space, which, according to the Times, employees and industry insiders call "the rape room" — the location where much of the sexual aggression at the Spotted Pig allegedly occurred, by Friedman and Mario Batali and other powerful men.
The Spotted Pig is a New York institution. Since opening in 2004, it has been one of Manhattan's most prominent and popular restaurants, beloved by critics, celebrities, West Village neighbors, and tourists alike. With its velvet curtains, dark coloring, booming bar scene, and late-night hours, it has also always reeked of sex. There's literally a cocktail on the menu called "Sexy Animal." It's a place to go, ideally, at midnight to have devils-on-horseback and some fun. But in the aftermath of the Times story, it's become a symbol of the systemic culture of abuse that has plagued, and will continue to plague, the hospitality industry. The same parts of the Spotted Pig that are inherent in its appeal — it's seductive, it's dark and mysterious, it can get a little wild — have now become perverse and problematic. How can the restaurant go on like that?
The most obvious, and perhaps simplest, outcome is that customers will stop going, and the restaurant will close. But from all appearances on Wednesday, this will not happen.
Unlike the other recent exposés on restaurateurs, the Friedman feature is the only one to have such a strong sense of place. The Spotted Pig is described with such lurid and explicit detail that it becomes its own character in the story. Also, in the unique case of the Spotted Pig, it's not only where Friedman harassed employees; it's where men hung out because bad behavior was permissible, like this restaurant was their personal playground. It's not only that Friedman acted poorly; the Times indicates that chef and co-owner April Bloomfield was complicit, and that managers encouraged or protected him. The restaurant, and specifically "that room," served as breeding grounds for sexual assault.
In the aftermath of these reports, it's hard to figure out how, as a customer, to respond. Do you boycott the many, many restaurants these men own? What about the hundreds of innocent — maybe even long-suffering — workers who are currently employed by these men? Doesn't boycotting hurt the people who we're now desperately trying to support and protect, and don't these reports create a new, safer work environment?
This raises even more fundamental questions for any food lover: Why go out to eat in the first place? What do you pay for? How much does the culture of a place, and the company behind it, affect your dining experience? If restaurants are in the "happiness business" — as they claim to be — how can the Spotted Pig continue to sell its particular brand of fantasy? Can, or should, you still take pleasure in the restaurant after the velvet curtain has been pulled back?
Personally, I can't. Sexual misconduct now feels central to the Spotted Pig's identity, in ways unlike John Besh's August or even Batali's Babbo. I sat and ate the ricotta gnudi, as I have many times before, but with an added lurking feeling in my stomach. The char-grilled cheeseburger doesn't taste as good knowing that when I sign the receipt, I'm paying for everything else that went into making it — and not just the cow.
Unlike Matt Lauer or Charlie Rose, Friedman and Batali cannot be fired. They can "step away" from day-to-day operations, or take a "leave of absence," but as far as we know, they will still profit from their restaurants. Then again, so do their employees.
At the end of my dinner, I asked my waitress how it felt to return to work. "The story was more intense than I anticipated," she said. She only recently started working at the Spotted Pig. She's never heard anyone use the term "rape room." Many of her co-workers have been debating whether to continue working there, but she likes her job and feels that the story does not reflect her personal experiences. "I've never worked for a more fun team," she told me.
But how deeply can the toxic culture of a restaurant infect its employees, even those who don't feel touched by the abuse? If the Spotted Pig closes, it puts a hard stop to the deeply embedded cycle of abuse and horror. "I would rather work at Benihana than a playground for rich, ageing milquetoasts to grope and catcall," another employee, a cook, told me, anonymously. "I don't like the idea that me doing well benefits someone like [Friedman]."
The good news, if you can call it that, is that cooks and front-of-house staffers are in demand, and the Spotted Pig employees are highly skilled. There's been a lot of talk of what we can and should expect from our industry leaders — is their silence conspicuous? Or do powerful male chefs actually need to talk less? One way they can be active, helpful, and productive, immediately, is to hire Spotted Pig workers and ensure that they're giving them safe spaces for employment.
Earlier on Wednesday, Bloomfield flew into New York and addressed her employees, denying that she told anyone, "Get used to it or go work for someone else," and promising change. But even in Friedman's absence, his presence haunts the Spotted Pig.
"For a lot of the people here, the question is if he'll get financial benefits, even when he's not with the company," the waitress said. "We don't know yet. That'll impact whether or not we want to stay. But I'm happy that I never have to meet him now."