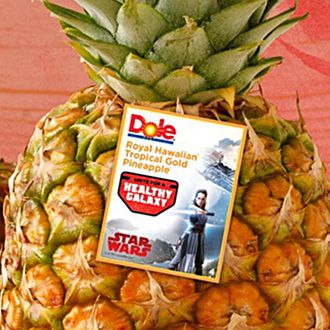 Scan the label with Dole's app, and get even more "unique Star Wars content."
Photo: Dole
Nothing sells retail like tags co-branded with the Star Wars logo, but Dole has taken this winter's most coveted tie-in to a farcical level. To leech off of the new movie, it's promoting an exhaustive line of "Unite for a Healthy Galaxy" fruits and vegetables — for all the teenage sci-fi nerds doing, you know, their weekly salad shopping. The campaign's name sounds like what you'd get if Michelle Obama threw a Last Jedi viewing party, but Dole says it's part of a very real effort to "help parents get their kids to eat better" by slapping porg stickers onto bananas and whatnot.
Dole says it even "worked closely" with Lucasfilm to concoct original recipes inspired by the franchise's characters. For instance, there's Tatooine Blue Milk — an "original vegan beverage inspired by the blue milk scene introduced in Star Wars: A New Hope" that is basically a banana smoothie dyed blue. For cynics out there, buying Dole's shamelessly branded veggies requires no more than an eye roll, but once you do, consider that you'll be entered to win a multitude of Star Wars prizes, like one of 18 remote-controlled BB-8 droids.
That enticement likely sufficed for many people, though it hasn't kept even hard-core fans from ridiculing the idea online:
Including this guy, John Jackson Miller, who literally writes Star Wars novels and comic books:
Maybe it's that Star Wars and lettuce don't have a ton of consumer overlap. Or it could be that Dole didn't exactly go all-out and make, like, Yoda-shaped cauliflower heads or whatever. After all, it's much easier if you're official ice-cream-maker Ample Hills, and your $30 three-pack of pints already seems carbon-frozen.