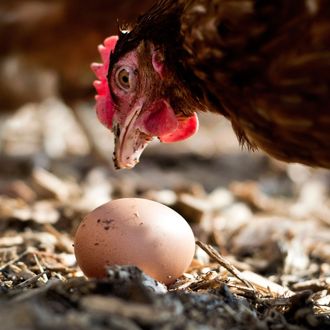 Not what the Trump administration wants your "organic" eggs to look like.
Photo: Victoria Bonn-Meuser/AFP/Getty Images
The Trump administration has found a new Obama-era USDA policy with which it vehemently disagrees. The newest target of its ire: rules that would codify the seemingly self-evident position that "organic" animals must be raised more humanely than their conventional counterparts. Obama officials passed a set of regulations intended to ensure exactly that — the well-being of livestock used for organic products — but the Ag Department ruled on Friday that this was more Obama nanny-stating, and there was actually no reason for America's "organic" label to be limited to food with higher animal-welfare standards.
The agency hasn't officially chucked the policy yet, only laid out plans. Just on the egg side, industry exposés have shown that companies operate colossal barns jam-packed with 180,000 hens, each given a third of a square foot to live in and no outside access, and that's somehow good enough to get "organic" certification.
Trump's USDA favors rules that only require theoretical access to a "porch" that's fully enclosed and still attached to the barn. Obama officials wanted changes that would give hens at least one foot of space, make outside access nonnegotiable, and guarantee a minimum of light filters into barns, but the new administration argues that those things all "exceed USDA's statutory authority," because the original law that created the "organic" certification in 1990 bans "broadly prescriptive, stand-alone animal welfare regulations."
Trump's move would be "destructive to the whole organic field," the CEO of Pete and Gerry's, a free-range egg company at Whole Foods and other organic grocers, tells the Washington Post. "What's so upsetting is that there is such a gap between what organic consumers expect and what these factory farms are producing." Over 80 percent of organic shoppers said in a Consumer Reports survey earlier this year that it's important that organic eggs come from hens that got outside access.
The USDA claims that organic farmers are on its side, arguing that they fear Obama's rules will "hamper market-driven innovation." But as NPR reported this weekend, that's kind of some bull because industrywide lobby groups like the Organic Trade Association very much want the regulations enacted. Opponents include all of the big egg companies and the National Pork Producers Council, which isn't even an organic group. In fact, its members have plenty to lose if tightened rules ever get applied to the tiny gestation crates the industry's pigs live in.