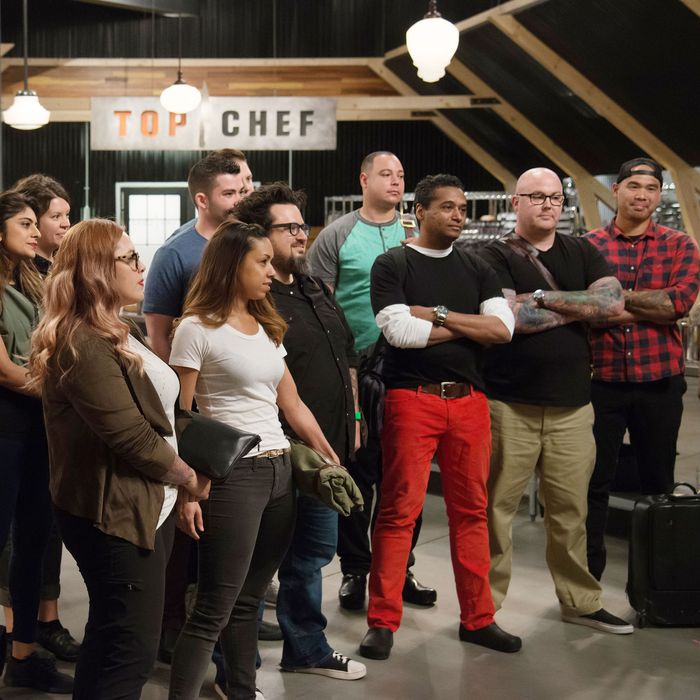 So many new people!
Photo: Paul Trantow/Bravo
The moment has come. The moment is here. The moment is the new season of Top Chef. This year, we're headed to Denver, Colorado, culinary capital of the Rockies (possibly true) and home to this recapper's favorite fast-casual noodle company, Noodles & Company (definitely true). Chefs from all over the contiguous 48 states are here, and also someone from Alaska. Padma Lakshmi is so excited, she has donned her best après ski–inspired attire for the occasion. Westward ho!
"Usually, we take a moment to get to know everyone," announces Padma, goddess of the mountains, "but this year, we thought it would be nice to do something different and get to know you through your food!" It's the Quickfire Challenge, and we haven't even said hello yet! Life: It comes at you fast. The anonymous chefs will have 45 minutes to complete a dish made out of literally anything for a get-to-know-you potluck. "Cook whatever you want, but remember, first impressions are very important," the mountain goddess threatens, ominously.
Everyone cooks, and we get to learn about our new friends. Chris Scott is from Brooklyn via Pennsylvania, and specializes in Amish soul food. Accordingly, he will be making autobiographical dumplings. Ex–punk rocker Tyler Anderson is here to "represent the state of Connecticut," so he is whipping up a West Coast–style potato salad. At this point in the show, you may think to yourself, But isn't Connecticut on the East Coast? It is.
Another person who is here is Bruce Kalman, whose distinguishing characteristic is that he is already famous. "But to be called 'Top Chef,'" he chuckles, wistfully contemplating his mortality, "that is what I need to hear." There is nothing I appreciate more in a man than the naked desire for reassurance.
Other people make other things, and — frankly — there are too many things to keep track of. The main takeaway from this entire bit of the show is that a chef named Joe Sasto III has a statement mustache. "He looks like one of those guys who used to tie up the ladies to the train tracks," muses citizen-poet Chris Scott.
There are more chefs still to meet, but whatever, it's potluck time! Don't worry; Padma, Tom Colicchio, Gail Simmons, and Graham Elliot will go ahead and seat themselves. Padma demands that everyone go around the table and say their name and what they made. Rogelio is up first. I did not know Rogelio existed until this moment, but he does. He made a chorizo stew and candied beans and jalapeños. Connecticut Tyler presents his bicoastal potato salad with overbaked chorizo crumbles, which Claudette Zepeda-Wilkins — another new person! — says doesn't even taste like real chorizo. "It is chopped meat on a potato round," she says. There is a close-up of chopped meat on a potato round.
Everyone, but especially Tom, coos over Chris Scott's soulful Amish dumplings with broccoli rabe and mushrooms. More people arrive, including another Joe who is defined by his lack of mustache, and they all cook food. The thing is, this early on, with so many people, you need an immediate hook to capture the attention of the viewers. Enter Brother Luck, whose hook is that his name is Brother Luck. "It's, like, the coolest fucking name of all time," says (no-mustache) Joe. Brother Luck was a hotel chef until 45 days ago when he left to open a restaurant while also being on Top Chef, but at this point, all you need to really know is his name.
And now, a twist: Instead of the judges judging the chefs, the chefs will be judging each other. The voting happens very quickly, which is how you know it's television. The winner is another new person: Tu David Phu, who made corn salpicon. His distinguishing characteristic for our purposes is that he just won this challenge.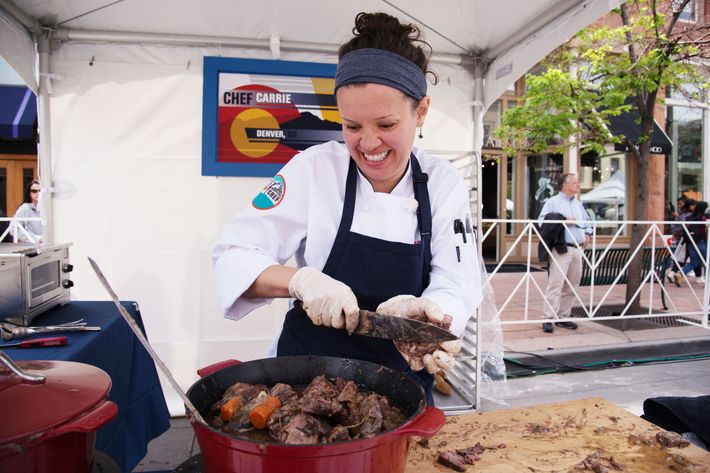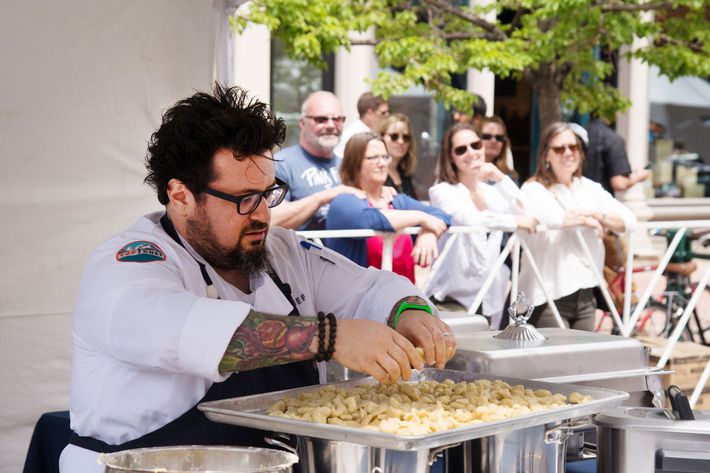 But there is simply no time to bask in the glow of Tu's victory, or to even learn more about him, because Padma says it's time to get to the meat of the competition. Get it? (It's a challenge about meat.) "Back in the frontier days," she purrs, "Denver was known as a meat-and-potatoes town. Things have changed a lot since then." They have Chipotles and craft breweries, for example. Anyway, the challenge is to put a modern spin on meat and potatoes, and then serve it at a block party with 200 real live Denver residents.
After a requisite jaunt to the local Whole Foods, it's time to cook. There is an immediate issue: Both Joes are doing tartares. "Joe swings for the fences," says one Joe of the other Joe. "It's just going to be a true Joe-down throwdown." The other main issue involves a chef named Laura, who is from Alaska, who wanted to make potato bread, but is instead forced to prepare something else. A third issue is that Melissa, who is also a person on this program, doesn't really "get" potatoes. A fun fact about Melissa is that she prepared for this opportunity by having panic attacks; she is very endearing, our Melissa. If only she liked potatoes more.
On that note, let's party! Mustache Joe discovers the on-site fryer won't get hot enough for his tartare-topped potato chips, so Challenge Winner Tu lends him his only pot. "It's my strong belief to try to establish comradery wherever I can," Tu smiles, lit from within by goodness. For his own bò kho beef stew, he'll just heat it in a hotel tray on induction burners and try not to scorch it, no big deal! This could be seen as the ultimate gesture of a good-natured competitor, but do not forget that challenge-winner Tu cannot lose this week.
Eventually, the judges roll in, accompanied by what looks to be the entire city of Denver. Padma is super into Fatima Ali's samosas, which is pretty much the realization of Fatima's childhood dreams. Fatima has been obsessed with Padma ever since she was a little girl in Pakistan. (Now, she's based in Brooklyn.) Tom agrees that they are stellar in all ways, such as texture and flavor. Then Padma and mustache Joe have a nice little exchange about his meat. Padma: "I like that it's cold. I hate warm, slimy meat." Tom: "With that, we'll keep moving."
Other triumphs: Already-famous Bruce's potato-leek gnocchi with pork shoulder (a relief to us all); Connecticut Tyler's sweet-potato purée with crispy potatoes and smoked-pork gravy (extremely crispy); and Amish-soul Chris's potato waffle with barbecued beef and corn chowchow (very Amish, very soulful).
Alas, Gail Simmons says Tu's stew is scorched. Also, Tom is served a burnt potato chip, which is not the kind of misstep a man can just forgive. A jerk tri-tip isn't adequately jerky, and everyone pretends to like Melissa's boring braised pork rounds with boring potato purée, but secretly they hate it.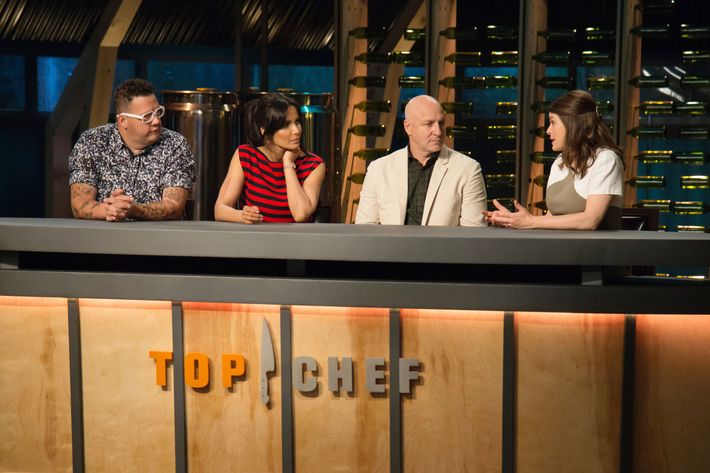 Padma gathers the heard before her, for culling. All in all, Tom felt it was a great start. The top three: Amish-soul Chris, Padma-fan Fatima, and Connecticut Tyler, who is the winner of this challenge for his formal mastery of the potato. "It's always good to be on top," Tyler informs the camera, without smiling.
As for the losers this week, the ultimate verdict is delivered without ceremony: Melissa is sentenced to compete in Tom's favorite show, "Last Chance Kitchen," probably for the rest of her life. At least one of them is excited about it.
So there we have it! Coming this season: There will be blood. There will be tears. Bruce will miss the birth of his child in the quest for culinary greatness, and the chefs will be left to fend for themselves in the wilderness, by which I mean go to Telluride. See you next week.