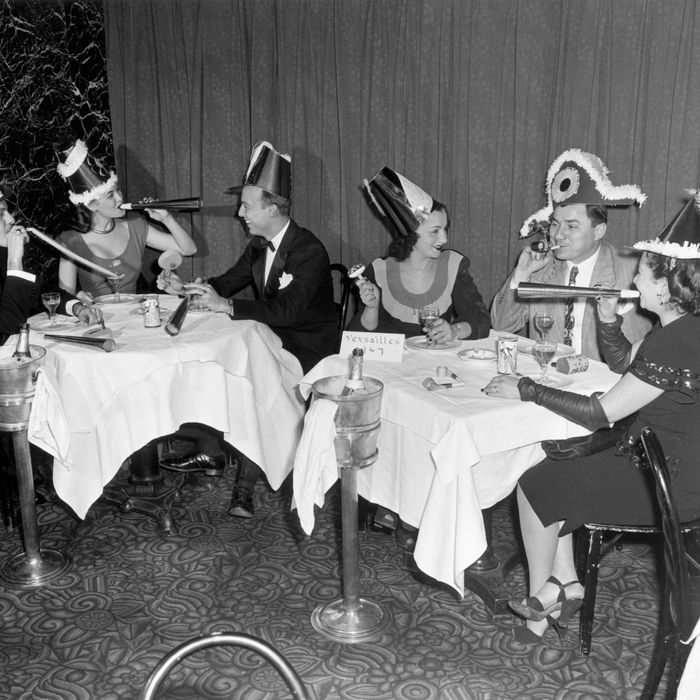 Your New Years Eve look.
Photo: Bettmann Archive/Getty Images
It's New Year's Eve, the holiday New Yorkers celebrate with unnecessary cover charges and forced prix fixe menus. It doesn't have to be this way! There are plenty of excellent spots where it will be more or less business as usual — and you can ring in the new year knowing you aren't getting price-gouged for middling caviar and subpar sparkling wine. Grub is here to point you to great bars and restaurants that are sticking to their usual routines.
Bar Moga
Cut into a fried rice–stuffed omelette and drink a Scotch and shochu cocktail, the Devil's Pocketwatch, at this stylized cocktail bar that calls back to 1920s Japan.
Butter & Scotch
Cake and cocktails? Sounds like a pretty good way to end the year. And it might not be your birthday, but birthday cake this good shouldn't be eaten just once a year.
Claro
The lobster tostada feels fancy enough, and there's plenty of mezcal — straight and in cocktails — to wash it down.
Dante
You could try to go out with a bang and drink everyone of this downtown bar's 12 Negronis, though maybe it'd be better to split them with good friends.
Diner
It'll be no-reservations here, per usual, and the always changing menu will include shrimp cocktail, scallop crudo, and dry-aged rib eyes if you want to make a night of it. Plus, you'll get a Champagne toast with your meal.
Dumpling Galaxy
Why not go to the house of New York's Best Dumpling? Dumplings are believed to bring good fortune, and you'll have dozens of ones to choose from here.
Emily
The pizza here is particularly fun — ranch! vodka sauce! pulled pork! — and there's a burger (single patty at the original Brooklyn location, double in the West Village) that will make you feel like you ended the year on a high note.
Emmy Squared
Or you could go the square 'za route in Williamsburg, where they serve pies topped with hatch chiles and pineapple, and top it off with a chicken parm sandwich.
El Atoradero
Make it a Taco Monday at the Prospect Heights taqueria, then head right next door to its sister bar Madre Mezcaleria for a few drinks.
Jeju Noodle Bar
Noodle into the new year with a bowl of Fish Coop ramyun, made with a chicken and fish broth.
Hanoi House
It's been a real hassle getting into this Vietnamese restaurant, one of 2017's biggest and most exciting surprises, since it opened, but they're actually offering reservations for the holiday. Just email info@hanoihousenyc.com; otherwise it's just the same old spring rolls and pho.
The Lost Lady
The Avenue C bar is the sort that's always laid-back, and they won't mess with things for the holiday except to offer a Champagne toast and complimentary passed appetizers and tacos.
Marlow & Sons
If you want to go to an Andrew Tarlow restaurant but would prefer knowing when you'll eat, his second restaurant will also be à la carte with specials like a seafood tower, more dry-aged rib eye, and a complimentary Champagne toast.
Nur
Tear into kubaneh bread and chickpea-fried octopus at the Middle Eastern restaurant, where you'll get a complimentary glass of Champagne.
Oiji
The year is over — why not just eat several rounds of honey-butter chips? Finish the meal with a dessert of honey-butter chips with ice cream. You deserve it.
Old Monk
At the East Village Indian restaurant, you can eat juicy Tibetan-style dumplings, tangy and crunchy paapdi chaat, and get a chef's thali with a bunch of different curries.
Ops
2017 was a garbage year, so kick it to the curb with two of the best things: pizza (like a special of speck, smoked mozzarella, and tomatoes) and wine. They'll have magnums of the good stuff from producers Radikon, Ducroux, and Costadilà.
Pinch Chinese
Have a few orders of soup dumplings, and drink some good wine while you're at it.
Popina
Eat cornmeal-fried oysters and hot chicken Milanese before your party.
Suffolk Arms
Great cocktails and an unpretentious atmosphere? Sounds like a much more fun way to ring in 2018. They serve great piña coladas along with other fun drinks like an espresso Martini and Trinidad Sour, and you'll get a free Champagne toast.
Vini e Fritti
Danny Meyer's Roman-style bar serves lots of fried snacks, and — more relevant to this night — plenty of bubbly cocktails and wine.