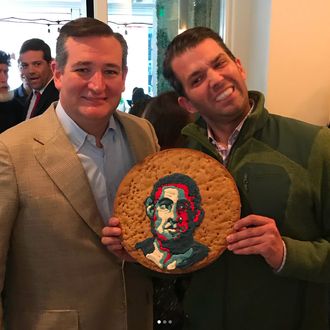 Two guys owning Obama with a cookie.
Photo: donaldjtrumpjr/Instagram
Yesterday, the president's son Instagrammed several pics of himself looking super stoked by a cookie that mocked Obama's "Hope" poster. "Some good friends decided that while my birthday is not for 2 weeks that they would get me an early 40th birthday cake," his caption read. "And what birthday is complete without an Obama cake?"
First off, that's a giant cookie, and second, it doesn't appear to have been an "early" Donald Trump Jr. birthday gift — he was reportedly at a Dallas restaurant for a "regular patron's" birthday party, to which another guest apparently brought the celebratory dessert. Either way, Senator Ted Cruz was also in attendance; he happily mugged with Trump Jr. in one of the photos, and many in the crowd seem to have found the cookie hilarious.
The owner of that restaurant, Le Bilboquet, was not among those people. After the internet had a field day with Trump Jr.'s pics, with some ripping the stunt as a "racist minstrel show," Stephan Courseau posted his own message both on Facebook and Instagram voicing his displeasure. "Let me be clear, I share your indignation without any reservation" about the borderline-racist cookie, he wrote. For reasons you must assume involve lots of subsequent nasty troll comments, the posts have since been removed, but the Houston Chronicle and Dallas Observer report that Courseau wrote, in part:
Both Donald Trump Jr. and Ted Cruz were attending a birthday celebration of one of our regular patrons who rented out our venue for a private event. The party was not for either one of them nor was it any kind of partisan rally.

We at Le Bilboquet feel betrayed and sad. Restaurant business is about creating a hospitable environment for all, a non-partisan, non-politicized, nondiscriminatory and respectful environment. The fact that guests decided to use our restaurant as a platform to promote, disrespect, and spread hatred goes against everything we stand for. On a personal note, I am French and my wife is Mexican. We both believe in universal values of love, respect and tolerance.
The posts followed a lot of social-media attacks on the restaurant, including calls to boycott it. Courseau explained that he's "hurt" and also "truly sorry that such distasteful events happened at our venue," but tried closing on a more hopeful note — that maybe the stupidity of it reminds everybody that "a divide still exists" and "to keep promoting our core values, so that events like these don't happen again."