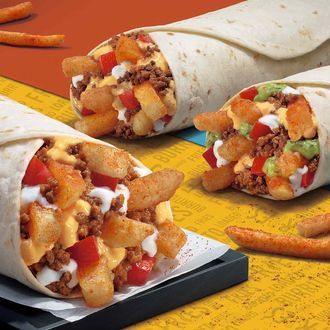 A match theoretically made in heaven.
Photo: Taco Bell
No Mexican staple is safe once Taco Bell's R&D team discovers a new ingredient (one word: Dorito-fied), so it should surprise no one that burritos are already being colonized by the French fries used in the chain's nachos mash-up. It seems they've stuck the leftovers inside a tortilla and added some meat in a bold attempt to take on the cherished California burrito.
Taco Bell is testing out three versions, all fry-stuffed and $1.99, although two of them are definitely a stretch by even a generous definition of "Cali burrito." The California Loaded Fries Burrito is trueish to form — they just swapped the much more exciting carne asada for the chain's go-to "seasoned beef," and add a glop of nacho cheese to remind you that this is a thing being sold by Taco Bell. The second one, simply dubbed Chipotle Loaded Fries, jettisons the guac for a creamy chipotle sauce. Third is the bare-bones Supreme (nacho cheese, sour cream, tomatoes) for fry-burrito dieters out there.
Californians aren't sure whether to feel flattered or condescended to, but would probably eat them anyway.
Southern California is where the fries debuted, but the California burrito is only available through late December to customers in Charleston, West Virginia.