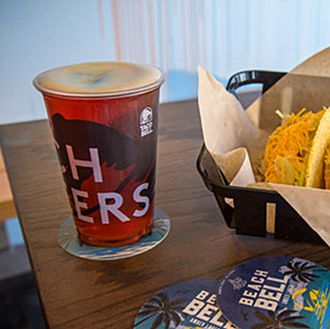 Chalupa Supremes y cervezas.
Photo: Taco Bell
The company that began as a tiny SoCal taco stand with the slogan "Ding Dong! Tacos!" has come a long way. The world's biggest Tex-Mex-ish chain now marries people, sells French fries, and — at a brand-new Cantina location in Orange County's Newport Beach — has started pouring its own branded beer. That restaurant is the latest outpost of Taco Bell's urban concept stores. Each one has a different gimmick — some might serve tapas and boozy slushies (officially "Twisted Freezes"), require bouncers at the door, or feature spiffy murals by local street artists — and Newport Beach's big draw is a beer on draft called Beach Bell.
Reps for the chain say Beach Bell is a Mexican-style amber lager that was co-developed by Taco Bell chefs and Four Sons Brewing, a local craft brewery. They worked to give it a "unique flavor profile" that "enhances" the taste of Taco Bell's food. (So … taco seasoning?)
But, lovers of gimmicky fast-food beers: Don't get your hopes up. Taco Bell explains that since no two Taco Bell Cantinas will ever be "exactly the same," the beer isn't going to spread all across America.
Still, people seem to like the Newport Beach Cantina: The O.C. Register reports that it's "steps away from the beach," and has a 14-seat bar made of "partially reclaimed wood" with "Edison lights in clear globe shades" for Instagram-perfect ambient lighting. It officially opens today, and the beer's only going to be available while supplies last.