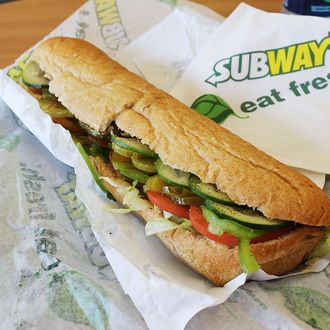 "It's not you, $5 Footlong. It's me."
Photo: Joe Raedle/Getty Images
Bad time to be in the meatball-sub business. First, Subway franchisees hear word, via a companywide memo, that the chain's traffic has fallen by a truly staggering 25 percent in the last five years, and now comes news that the foundering company's store count dropped by 909 locations in 2017, which is more than 3 percent of its U.S. footprint.
The store-traffic carnage was first reported last week by the New York Post, and the tabloid's story also added that franchise owners are in practical revolt over Subway's decision to once again sell $5 Footlongs.
Franchisees reportedly claim that profits are way too thin for any customer charity right now, and that the return of the $5 Footlong promo would be a fresh and unnecessary hell. More than 400 of them even signed a petition that complains that Subway's marketing strategy over the last five years "has decimated [us] and left many franchisees unprofitable and even insolvent," not to mention hastily torching all of their Jared Fogle cutouts. On Monday, angry franchisees drew their first blood when Subway's North American marketing head Karlin Linhardt abruptly resigned. She was "believed to be" in charge of the $5 Footlong promo, according to the Post.
Besides bringing back the Footlong deal — which is still tentatively happening in January — Subway's other attempts to stanch the flow include a major store-design revamp christened "Fresh Forward," and the chain's first loyalty program, which isn't going so well yet. Also, there's a really delicious-looking Reuben sandwich available all winter: