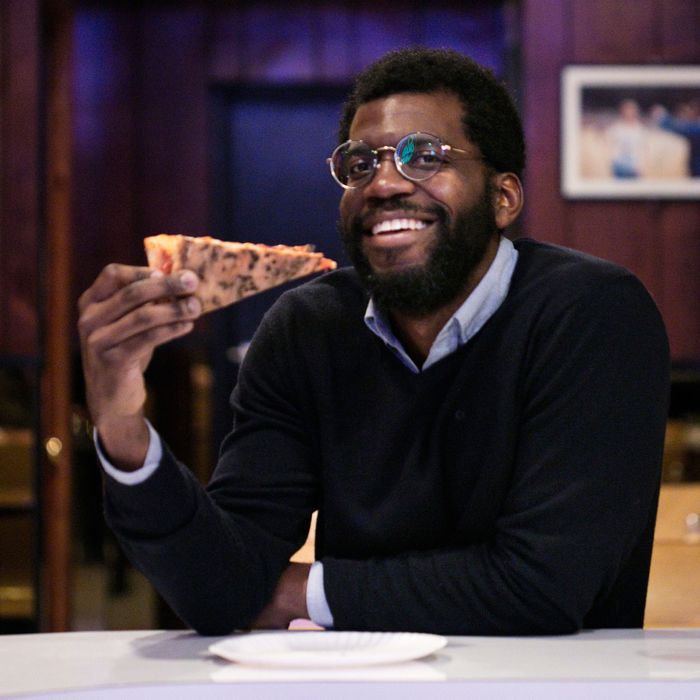 At his beloved Scarr's.
Photo: Melissa Hom
After building a career as a food writer and media producer at Food52, the San Francisco Chronicle, and Civil Eats, Stephen Satterfield this year launched a print magazine, Whetstone, that explores the origins of ingredients. This week, while putting the finishing touches on the second issue, Satterfield attended not one but two posole-verde parties, feasted at Olmsted, and cooked mac and cheese with three different cheeses. All this, and more, in this week's Grub Street Diet.
Thursday, November 30
Today begins with steel-cut oats. Not just any old oats, though. These are improved oats, enlivened with tasty, toasty supplements: black rice, cultured butter, pepitas, and sesame seeds. These flourishes ought to be attributed to Standard Fare Cafe in Berkeley. I had their version of this dish a few months ago and haven't been the same since. This one gets a baby pool of maple syrup — keeps the semillas in place.
I'm an enthusiastic coffee drinker. Not fanatical, but for real about my coffee. This week's roast came from Abraço. It's the Matteo Caetano blend from Chiapas. It's named after the owner's son, whose likeness is stamped on the front of the bag. I buy coffee from Chiapas on sight (also from Kenya and Ethiopia), and this one doesn't disappoint. It's fragrant, lean, and choco-fruity. But not too much of any of them. Just how I like it.
Midmorning intermission: Toast Time. This is not the last you'll be hearing of the toast. I eat lots of it. Today it's cut thin, too thin actually, pan-fried, and topped with avocado, of course, flaxseed, and "Aleppo" chili (most likely from Turkey). The toast is Mestemacher flaxseed. I like my bread earthy and without preservatives. Half an avocado is covered in Frankies olive oil and given a squeeze of lemon juice.
Alongside that, I have Blue Hill Bay smoked salmon and Consider Bardwell Rupert raw Jersey cows'-milk cheese. Whenever possible, I pass on pasteurization. Stale toast from a prior day become the crackers for my snack spread, and a single bite of Blue Marble organic vanilla ice cream.
Pizza is life. I love it so much. A slightly chilled red wine plus pizza is a dinner that excites me seven out of seven nights. It's a work night, though, so it's delivery from Best Pizza, plain pie. Not that I'm anti, but I don't love cold pizza the way others do. But far worse is the tepid in-between temperature from a pizza delivered on a bike in a New York winter. Do yourself the courtesy of reheating on very high heat. Before it goes in, I add chili, basil, and olive oil. I find garlic knots gratuitous, but I was talked into these, and stunningly, they exceed the pizza. Testament to the knots, not slighting the pie. It comes with a side of pickled veg. Olivier Lemasson's R16 red blend is the wine of the night, and man, it is good. I close the night with hot water.
Friday, December 1
I drink hot water all day, every day. I'm not dogmatic about having it before my coffee, but it is much better for the belly. It's like how, in the winter, you gotta let the car run for a bit before driving.
Coffee: more Abraço Matteo Caetano with hand-cranked coffee beans and an oversize measuring cup as Chemex. Delicious. Avocado toast with seed mix and Best Pizza pickled veg. It's got flake salt and lemon on it, and I eat it while on a conference call.
Snack time! Two green Vietnamese orange wedges and two slices of pizza, again reheated, and not in that order.
I'm digging the Abraço. I head into Manhattan to visit the café in real life. I have an egg sandwich with boiled egg on Sullivan Street Bakery stirato. Honey saffron brioche. Yes, please. I order more coffee, and as an unexpected bonus, the owners walk into the bakery. I'm not introduced, nor do they announce themselves; they just walk in with two very energetic children and start doing owner stuff, like messing with the lights and asking about deliveries. One of the children, I realize, is Matteo, whose coffee I've been drinking this week! He's too young to have this explained, I decide, but old enough to know how to high-five, which we do.
I'm feeling squirrelly from all of my travels. I hit Juicy Lucy on 1st and First for a carrot, kale, ginger, and garlic juice. This gives me the fortitude for a walk to my beloved Scarr's Pizza. This place speaks to my soul. Gucci Mane poster, nostalgic '90s Knicks, loud rap, and crucially, Presidente on tap. If none of this means anything to you, that doesn't mean you won't love Scarr's, it just means that I really love Scarr's. I eat a white pie loaded with ricotta.
It was worth it, but I was not healed by the pizza and beer. My homegirl Sana Javeri Kadri just started a direct-trade turmeric company called Diaspora Co. Her turmeric — blended with honey, lime, lemon, and cayenne in hot water — is restorative, but arousing even in health. I make a turmeric tonic.
Chicken soup and corn bread for dinner. You can find the corn-bread recipe here. It turned out well. Two words: yogurt, milk. The chicken soup has the leg and thigh only, rehydrated shiitakes, ginger lots, goji, fresh turmeric, and black peppercorns.
Killed the bottle of R16, then hot water.
Saturday, December 2
I'm blessed with day-old salted buckwheat-chocolate cookie from Bien Cuit and Abraço orange-polenta cake to join my coffee this morning. That salted chocolate cookie is almost too salty for the coffee, but toes the line in just the right way.
Pizza is life, but papas are my favorite food. Without chips or fries, my day feels incomplete. The bodega can fix that. I house a five-ounce bag of Kettle salt-and-pepper chips, the ones with the deep ridges. No matter the volume of the bag, inevitably, I will eat them all.
At home, I make collard greens. The bacon ends from Flying Pigs Farm at the Greenmarket were on sale, two for one. Cut onions in the shape of crescent moons and sweat them with the bacon and chilies. Remove the small, square bacon chunks, and cook the collards in apple-cider vin, rice-wine vin, and lemon.
Mac and cheese is a rich and creamy foil to the austere and sour greens. Especially day two. I make the mac with two cheddars — one from the U.K., one from New York — and a third cheese, Pantaleo, a goat cheese from Sardinia. Lotsa black pepper. It's made mostly on a stove top and finished in the oven, drizzled with olive oil, and cooked for about ten minutes on superhigh heat. Eat it all with the corn bread.
After dinner, head to Scout Rose and Ora Wise's place for a village convening. Scout greets mid-Manhattan stir and shares Etsy ornaments over Christmas music and a YouTube fireplace, which is exactly what it sounds like.
Sunday, December 3
Hot water. Leftover mac eaten at room temp with my fingers.
The Abraço coffee is gone. Head out for a disappointing Ethiopian pour-over. Sadness everywhere. And a pumpkin morning bun from Bien Cuit, which is not disappointing.
Toast party! Miss Kimberly Chou, Food Book Fair co-captain, is our toast host. She is the toast queen. She and Chandra Frank have been friends for ten years and mercifully let me crash their toast time.
Today's toast: Grindstone Rye from Hot Bread Kitchen, buttered on both sides. It's dense and delicious. Fixings: smoked salmon drizzled with olive oil, flaked sea salt, and lemon zest. Peach-chamomile jam, roasted acorn squash, avocado.
My move is to smoosh the squash and smear the ricotta. I toast dried wild thyme flowers that Chandra brought and crush them in a mortar and pestle. There's also an impromptu green-pickle situation — leftover pickles, sushi ginger from a while ago, finely chopped scallions cooked in butter from a prior toast party, and pea shoots. This is especially good with the salmon.
Also part of the spread: skin-on Marconas; picholine olives; sweaty Pantaleo; honeycomb; a salad of grapefruit, satsuma, and pomegranate with lime zest. Plus aforementioned turmeric tonics for the table.
My magazine's done, and I have coffee at the Brooklyn Public Library with George McCalman. We're going over the final details before we go to print. Yay, Whetstone! Brain food: sweet-and-sour satsumas.
I have the very good fortune of eating Jordana Rothman's homemade posole verde. When I arrive, she is casually pressing and cooking tortillas as we debrief over super-dry bubbles from the Jura. She has all the fixings: radish, shredded cabbage, jalapeño, tortillas, cilantro, onion, chile de árbol. Everything's clean, and except for the tortillas cooking in the sauté pan, dinner's ready. She's very good at hosting.
Dessert is Asian pear, to which I add a squeeze of lime and chile de árbol. Ginger tea. Not a thing I drink, but grateful to have it. We debate whether or not Airborne is a candy. (It totally is.) As a very sweet parting gift, I'm given five tiny tomatillos for my next posole party, which, it turns out, is coming up very soon.
So this part's crazy. Crazy and wonderful. I have a cherished group of friends living in the Crown–Prospects Heights zone who've colloquially taken to calling their hood, "The Village." I had, several days prior, confirmed to attend a posole party in the village for Monday, tomorrow night. Back at the crib, it's corn-bread butt, crispy parts of the chicken skin that have been left on the counter, and hot water before bed.
Monday, December 4
Breakfast is a slice of rye toast with cultured butter and jam.
Lunch: leftover collards, mac with Pisqueya Dominican hot sauce.
Snack: collard-and-bacon pot likker, and bacon ends and collard stems over some coconut rice.
I have an early dinner at Olmsted. I think it will be just a quick fix, but my boo Emmanuel Aguilar is behind the bar. A glass is filled with Domaine Migot bubbles. This is a wine I co-sign, Champagne without the price tag. I need food that can meet me in the glass.
"Neo-Fjordic" oysters with pickled beet mignonette, horseradish cream, and smoked-trout roe. Beer-battered squash rings come out in dramatic plating, hanging from some branches. They're coated with a sweet, homemade green-tomato ketchup that is imperceptible because the whole thing's covered in crushed pepitas. Uni-potato pierogi, steamed, with red kraut and sour cream. There is a rutabaga "tagliatelle" with black truffle. The most memorable dish by far (and one of the very best I've had anywhere in some time) is a bouillabaisse hot-pot special with mussels, shrimp, and scallops. The seafood arrives raw, so it's up to you to cook it tableside in the hot broth. There's a charming little hourglass that comes with it and expires in three minutes.
Speaking of charming little accompaniments, it also comes with a mini Runner & Stone baguette and rouille with bitter herb oil. I pivot to Le Jouet, a rich white blend from the Cotes Catalanes. These are the moments people who love dining are constantly chasing when we eat out. Apparently, chef Daniela Soto-Innes was recently there and (very kindly!) gifted a bottle of Joel Barriga Espadin mezcal. Her generosity is carried forth, and I am a lucky beneficiary! Such a treat on a chilly night (or any night).
Posole dos! I wasn't kidding about the posole. It's a second dinner situation. Posole party in the village. It's a semi-verde. The verde is a spicy, green hot sauce from Ora Wise's (Harvest & Revel) backyard. Rancho Gordo hominy. It's the only choice. Kate Barney, Kimberly Chou, and I drink the very classy 2015 Moreau-Naudet Chablis, which tastes way more expensive than it is — but mostly it's me and Kate.
Fixings this time: homemade hot sauce and spicy pumpkin seeds from Ora Wise. De Mi Tierra chocolate-habanero hot sauce from Puerto Rico. Chapulines. Lime. Sliced black, purple, and green meat radishes. Julienne cabbage and totopos, baked in grape-seed oil. Halloumi — a covert queso-fresco substitute.
Skin-on Marcona almonds and sliced grapefruit with lime and chili. Satsumas and salty dark chocolate for dessert.
Tuesday, December 5
Hot water. Two spoonfuls of McConnell's dark-chocolate-and-cocoa-nib ice cream. I defy you to find a better ice cream. It's the GOAT.
Oolong tea from the Wuyi Mountains steeped for less than a minute, drank, then re-steeped for an additional minute for the next three consecutive cups. This is how I drink my oolong and pu-erh, and I have one or the other almost every day.
I eat more skin-on Marconas and salty dark chocolate. They're excellent together.
Midmorning brings Hot Bread Kitchen nan-e qandi, toasted in the oven and split with butter, roasted squash, spicy pumpkin seeds, and flake salt. Pomegranate seeds. Legit coffee is back in action. Today, it's the Ethiopia Amaro Gayo from No. 6 Depot Roastery. This is a strong breakfast-snacking session.
I go to the Fausto opening party. RIP, Franny's, I know, but its new iteration as Fausto looks promising. Saveur has co-hosted a party, and I run into California friends! I congratulate Jon Bonné on the release of his new book, The New Wine Rules, and see Banshee co-founder, Steve Graf and his wife, Stacy Adimando, who co-authored one of my favorite cookbooks, Nopalito. Ted Lee is back from Rome, and professional traveler Leiti Hsu has just returned from Taiwan. A crunchy and piping-hot arancini is being passed around. I eat it whole and quickly, follow with chilled Grechetto — to pair, yes, but also to prevent my mouth from burning. The sweet-potato-and-parsnip tortellini comes around on a big soupspoon. It's much safer and equally satisfying. I'd really love to catch up more with this group, but gotta cut early to head to the city for dinner at Jeju Noodle Bar.
Who knew they'd be getting reviewed today? Not me. Anyway, it's not too crowded and very wet outside, so feeling grateful, given the convergence of all these variables. For dinner No. 2 tonight: the buttermilk-fried chicken wings, fish-coop Ramyun with shoyu egg, and before that, a crudo rice dish, Hwe Dup Bap. I like this one. For some meals, the quality of your conversation demands more attention than your food. It's nice when that happens. This is one of those times.
Sparkling rosé throughout the entirety of the meal. I conclude the evening by (very strongly) suggesting a bite of McConnell's, since, oddly, there was no dessert to be had at Jeju. No fruit. No granita thing. Nothing. We say our good-byes, and I think hard on rankings of the best McConnell's flavors.
Xandre Borghetti — brother from another — has just arrived from Los Angeles. This leads to dinner No. 3. Sort of. Meeting dear ones from the Bay, I decide to convene at Diner, one of my favorite places in New York. The burger is medium-rare with cheddar, with fries. I order it for the fries. I quarter it to make a shareable feast. I always do. I just think this is the best way to eat a sandwich. We drink Fulcro Albariño from Spain and a 2015 Guy Breton Gamay. I'm full. It's midnight and I'm on hour five of imbibing. It's New York, we all know how this story goes.