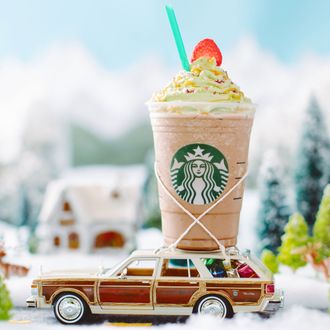 This thing practical Instagrams itself.
Photo: Starbucks
Critics convinced that Starbucks is morphing December 25 into a combo Chrismahanukwanzakah/International Refugee Day, you lose: Probably thanks partly to your whining, the coffee chain has squeezed one final, unnecessarily photogenic drink into the final weeks of 2017, and it's a literal Christmas Tree Frappuccino.
Available starting today, the very festive sugar bomb is unquestionably coniferous. A several-inch tower of whipped cream dyed with matcha forms the tree's leafy top part, with a peppermint-mocha base as the trunk. It's also studded with candied cranberry "ornaments" and strung with a long drizzle of caramel "garland." A slice of dried strawberry is the "tree topper." (That sound you hear is Instagrammers getting weak in the knees.)
Of course, one great irony of Starbucks's parade of increasingly elaborate drinks is, there's a certain "je ne sais quoi" lost in the translation to real life. The Zombie Frap afforded some leeway (zombie brains are supposed to be a mess, right?), but most people expect their Christmas trees to look sharp. Here's how the IRL versions are stacking up so far:
It goes away December 11, so you have until then to either stay off of social media, or get your smartphone to a Starbucks with great natural lighting.