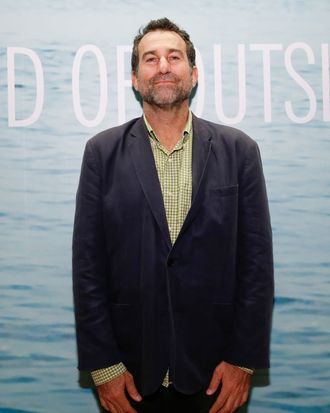 Friedman, in 2014.
Photo: JP Yim/Getty Images
In a New York Times report published today, ten women accuse restaurateur Ken Friedman of sexual harassment and misconduct, as well as creating a toxic work environment. Since opening the Spotted Pig in 2004, Friedman has been one of the most visible faces of the New York restaurant scene. Friedman worked in the music industry before making a career change to the restaurant world at the age of 40. His most successful restaurants have been those that he's opened with chef April Bloomfield, including the Spotted Pig and the Breslin in New York, as well as Tosca Cafe in San Francisco.
The allegations are detailed and extensive. Natalie Saibel, described as a longtime server, says Friedman "ran his hands over her buttocks and then her groin in a room crowded with customers, joking that he was searching her pockets for a forbidden cellphone." Trish Nelson, another server, says Friedman once "grabbed her head and pulled it toward his crotch" as she knelt to collect some glasses from a low shelf, and in 2012, Friedman "invited her into his car to smoke marijuana and almost immediately lunged forward and pushed his tongue into her mouth." According to the Times, Nelson gave notice within days. The report also says that for many women working at Friedman's New York restaurants, "unwelcome sexual overtures, verbal and physical, were part of the daily routine."
The allegations follow yesterday's report from Eater accusing Mario Batali — who was an early investor in the Spotted Pig — of sexual misconduct among staffers at his own restaurants. In this latest story, Friedman's employees say they also saw the celebrity chef acting inappropriately. Batali has "stepped away" from his restaurants. Friedman, meanwhile, released a statement to the Times that reads, in part, "I own my behavior which can accurately be described at times as abrasive, rude and frankly wrong." After the story was initially published, Julia Moskin, who wrote the Times story with Kim Severson, reported that Friedman would take "an indefinite leave from managing his restaurants."*
In the story, employees also report having turned to Bloomfield for help dealing with Friedman, but according to Nelson, "Her response was always the same … 'That's who he is. Get used to it. Or go work for someone else.'"
Bloomfield released her own statement: "In the two matters involving uninvited approaches that were brought to my attention over the years, I immediately referred both to our outside labor counsel and they were addressed internally. I have spoken to Ken about professional boundaries and relied on him to uphold our policies. Nonetheless I feel we have let down our employees and for that I sincerely apologize."
The report also details misbehavior in the Spotted Pig's third-floor private dining room, an event space that is often turned over to VIPs, and which employees reportedly nicknamed "the rape room."
[L]ate at night, after the first-floor dining room closed and the party moved upstairs, Mr. Friedman made it clear that normal restaurant rules did not apply, several employees said. In the frequently packed room, guests openly groped female servers, who said Mr. Friedman required them to work until parties ended, often after dawn.

Ms. Seet, the former manager, said that during a party in 2008, she intervened when she saw on the security camera feed that Mr. Batali, who was drunk, was groping and kissing a woman who appeared to be unconscious.
Employees who spoke with the paper say that Friedman's "volatile temper and verbal bullying" was a constant issue as well, and that he would subject managers to "screaming, profane tirades over minor details like an imperfectly fluffed pillow."
The employees were also reportedly encouraged to report harassment directly to managers, but managers "brushed them off" and sometimes maintained close relationships with Friedman. As Nelson, the longtime server, tells the Times, "That's what's so broken about this industry, and this situation … The people you are reporting the abuse to are the abusers."
*This post has been updated to include information about Friedman's leave of absence. It has also been edited to show that it was Nelson, not Saibel, who gave notice after an incident with Friedman.