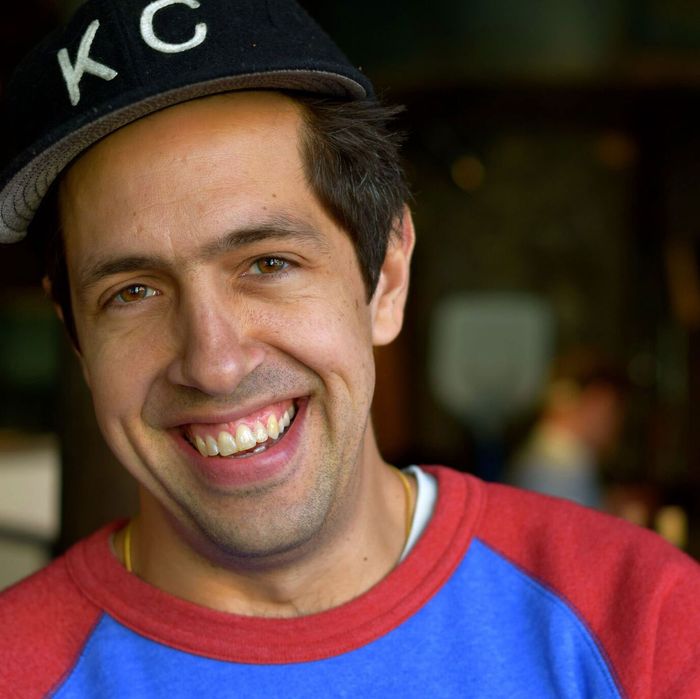 Justin Bazdarich will open Oxomoco early next year.
Photo: Courtesy of Speedy Romeo
Clinton Hill's Speedy Romeo is one of those restaurants that's always busy. It's a neighborhood spot with a serious following, which is no doubt why owner Todd Feldman and chef-owner Justin Bazdarich expanded last year with a second location on the Lower East Side. In other words, pizza has been good to Bazdarich, but Bazdarich will put down the pizza peel for his next restaurant, Oxomoco, which he'll open early next year at 128 Greenpoint Avenue in, you guessed it, Greenpoint. (His partner in this spot is Chris Walton, a longtime friend who works in commercial real estate in Arizona.)
Speedy Romeo's heart is its wood-burning oven and grills, and the menu at Oxomoco — named for the Aztec goddess of the night — will be centered around two wood-fired grills, too. As at his other restaurants, Bazdarich wants to make "a big show" of the grills and put the fire on display with a menu of what he's calling wood-fired Mexican.
"You know you have your al pastor, we're kind of taking that approach," Bazdarich says. "Marinating a lot of meats, and hitting them on the wood-burning grill so they get that char and texture we're looking for — as well as that smoke." Tacos will be the anchor, and Bazdarich is also thinking about bigger dishes like a spice-rubbed rib eye as well as a half-duck dish that could feature confit leg, a tamale made with the confit fat, and grilled breast. More generally, there will be ceviches and guisados (stews), though the final menu, of course, is still being planned.
The space itself used to be a plumbing store, and Bazdarich describes it as being similar to Lilia. Like that restaurant, it's a low-slung building and will have sidewalk seating when the weather warms back up. There's no floor above the restaurant, so Bazdarich and Walton have installed three giant skylights to flood the space with natural light.