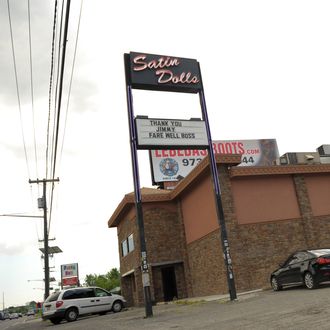 Officials gotta problem with that.
Photo: Michael Loccisano/Getty Images
Satin Dolls — the Jersey Meadowlands strip club Sopranos fans instantly recognize as Bada Bing! — is in deep not-fictional trouble with state Attorney General Christopher Porrino. He and New Jersey's Division of Alcohol Beverage Control have told the club to cease live entertainment and surrender its liquor license due to, wait for it, Mafia ties and failure to "account for large amounts of cash flowing in and out" of the business.
The owners since 1999 — the year the show debuted — have been Anthony Cardinalle and other members of his family. You'd think an Italian "family" of businesspeople led by a guy named "Tony" who literally put a James Gandolfini shrine inside their club would steer clear of additional mob connections. But one of several violations of state laws that Porrino's office says Satin Dolls committed is letting family boss Tony operate the establishment, as he'd been "criminally disqualified" from any involvement with the club.
In 2013, he was convicted of racketeering charges. He apparently helped the Genovese crime family extort Jerseyans and New Yorkers in the waste-disposal industry. (Tony turned informant to reduce his sentence.) If becoming a "waste-management consultant" wasn't dumb enough already, the Genoveses are one of two mob families that Sopranos creator David Chase says he based the show on.
"Illegal activity was glorified at the 'Bada Bing' in the fictional world of Tony Soprano, but it has no place in modern-day New Jersey," Porrino said in a statement that played the irony up hard-core, adding that the Cardinalles "may have wanted to keep the business in the family," but their "continued flouting of Alcoholic Beverage Control laws cannot and will not be tolerated."
Satin Dolls' performances have to stop on December 17, and the Attorney General's office has given them until January 8 to relinquish the liquor license.