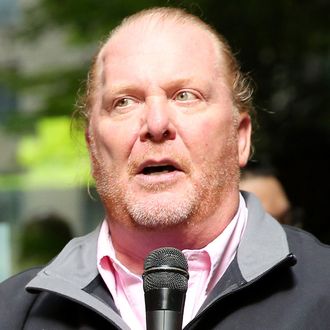 Batali.
Photo: Monica Schipper/Getty Images for NYCWFF
Mario Batali has his first on-the-record accuser: Actress Siobhan Thompson, a comedy writer who's appeared on Adam Ruins Everything and CollegeHumor's Originals series, says the chef groped her while she was a hostess at Del Posto, the high-end Italian spot that he bragged, just this fall, has an "all-woman kitchen." Speaking to CBS This Morning, Thompson tells the show that Batali "inappropriately touched her breasts" while she was working there.
Thompson is the fifth woman to accuse Batali of misconduct. The first four — three employees who worked for him, and another woman who met Batali at an industry function — spoke anonymously to Eater for this story. Batali hasn't challenged any part of their claims yet.