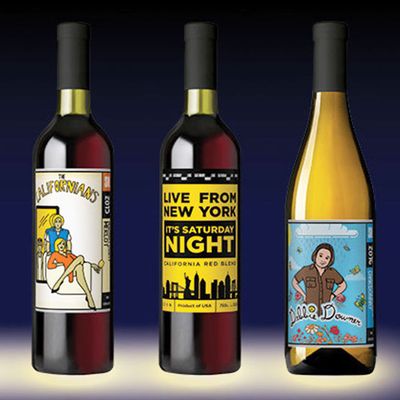 Homages to three classic sketches.
Photo: Lot18
To celebrate comedy and being TV's longest-running late-night purveyor of it, Saturday Night Live has partnered with "hard-to-find" wine curator Lot18 to create a set of four bottles honoring some of its favorite sketches. The limited-edition series features a mix of three reds and one white that will probably make you chuckle, then argue with friends over all the opportunities these four picks missed. (Grub's contender: The lack of an "I Have a Chardonnay" commemorating "Celebrity Jeopardy.")
There's a "Live From New York, It's Saturday Night!" blend of California Merlot, Zinfandel, and Petite Sirah, then the other three get sketch-specific: SNL's most freeway-obsessed West Coast soap opera has "a distinctly Californian" 2015 Merlot sourced from vineyards located one hour north of L.A. ("just take the 5 to the 101"). Debbie Downer, meanwhile, gets recognized with her own "ray of sunshine" Australian Chardonnay — a distinction likely to remind her of feline AIDS.
Third is, of course, a Stefon Beaujolais. "This good-time red has everything: enticing aromatics, candied violet flavors, goocidity (good acidity)," its description reads. "Pop this bottle open and be prepared to have a bizarrely awesome time. Just don't use a human corkscrew — or ask what that is." Bottles retail for $20 apiece, except for Stefon's, which, at $18, is in a good position to be the set's hottest wine.